Creating a Metal Building for All Your Needs
A multi-use steel building serves two, three or even more purposes.
The versatility of pre-engineered steel building kits makes them easy to adapt for any use. The unobstructed clear span interiors of a prefabricated metal building allow the owner free rein. Space can be allocated for whatever you need.
Think of the possibilities!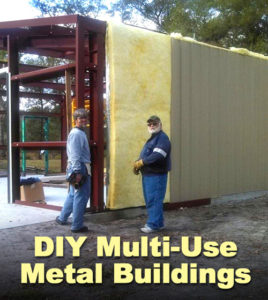 The combinations are endless. Just mix and match any of these into one roomy steel building:
Game room
Gardening and potting
Guest apartment
Gym and exercise room
Home business
Man cave or hobby space
Media room
Private office
Vehicle space for cars, boat, motorcycle, and RV
Well house
Workshop with room for organizing tools
Over the years, your needs for the multi-use steel building may change. No matter. A RHINO steel building kits adapts easily. With no load-bearing walls required, you are free to change the interior layout at will.
The adaptability of the kit is also a great selling point. Those purchasing your property will undoubtedly have different needs than yours. They will be intrigued by how easy it is to repurpose the space in your multi-use steel building.
What if you find you need more space? No problem. You will find that expanding a steel building kit at the endwalls is a snap.
The Steel Building Advantage
Regardless of the end uses you have in mind, RHINO has the perfect kit for you.
A RHINO multi-use steel building has these distinct advantages over other structures:
Steel is the strongest building material available.
It can span farther than wood and other structures, creating open, versatile space.
Steel requires far fewer pieces to construct a much stronger structure.
Steel is durable. A RHINO metal building resists damage from wind, snow, termites, mold, fire, lightning, and earthquakes.
A multi-use steel building requires little upkeep.
Every RHINO steel building kit is created in a quality-controlled factory. Every piece of the steel framing is straight and uniform— and will stay that way throughout the life of the structure.
The steel building kit ships directly to you. It arrives clearly marked and ready to assemble.
Multipurpose steel buildings from RHINO are affordable. Sophisticated computer programs create the perfect structure for your needs and location quickly and easily.
Due to the fire-resistant qualities of commercial-grade steel, most insurance companies offer big discounts for metal building kits.
Do-It-Yourself Simplicity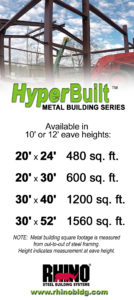 In spite of the fact that every order is custom designed for the customer's exact requirements, RHINO steel building kits are affordably priced. However, do-it-yourselfers finds they cut costs even more by erecting their own multi-use metal building.
Budget-conscious buyers may want to take advantage of RHINO's new HyperBuiltTM models. Perfect for the hands-on building buyer in a hurry, these streamlined designs ship in as little as two weeks.
Order Your Multi-use Steel Building Today!
Choose from the HyperBuiltTM designs, or have us create a structure more specific to your exact needs. Either way, you will get more bang-for-the-buck with a RHINO multi-use steel building kit.
Please call RHINO now to discuss your building needs. Our number is 940.383.9566. We will answer all your questions, assist you in planning your buildings, and provide a fast, friendly quote.