Fast Track Your Building Project with HyperBuiltTM Steel Buildings
RHINO's new HyperBuiltTM metal building kits accelerate the steel building process. Basic-box small to mid-sized structures, HyperBuiltTM models promise swift delivery and simple, quick construction.
Are You a Do-It-Yourselfer?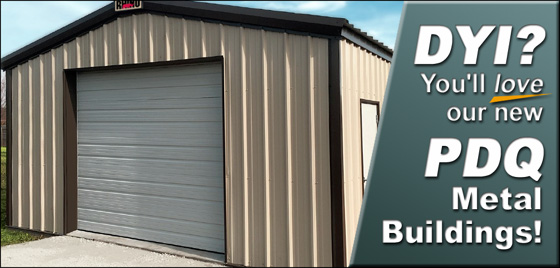 Once a do-it-yourselfer gets excited about their next project, they cannot wait to dive in. Waiting days for a quote, weeks for the kit to arrive, and months to complete the construction is not an option.
That's what makes this new model series perfect for the hands-on building buyer.
First of all, HyperBuiltTM metal building kits are simple. The line covers only four prescribed structure sizes, from 480 sq. ft. to 1,560 sq. ft. (See box below for sizes available.) Buyers have a choice of 10' or 12' building height. This streamlined selection allows RHINO to quote quickly and accurately.
Secondly, HyperBuiltTM kits enjoy high-speed, PDQ (pretty darn quick!) shipping. Customers receive their HyperBuiltTM models in as little as two weeks after placing their order!
To save even more, these buildings ship from the nearest manufacturing plant, cutting freight costs, too.
But buyers most appreciate the elegant simplicity of these easy-to-construct metal building kits. HyperBuiltTM models go together like an adult-sized version of a kid's erector set. The accompanying instructions lead you through the entire building erection, step by step.
However, even people who do not have do-it-yourself skills find HyperBuiltTM kits save them time. Erecting these structures should be a snap for any professional steel erecting team.
Options for HyperBuiltTM Metal Building Kits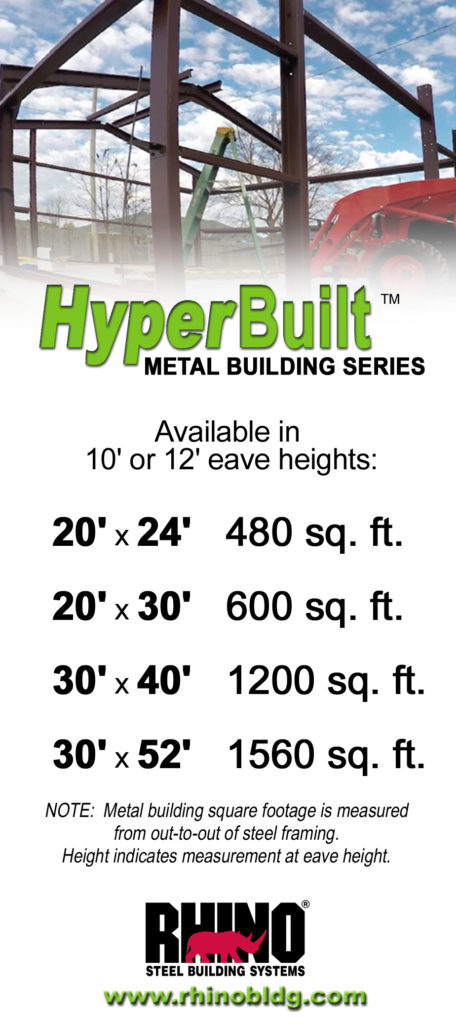 While cost-efficient HyperBuiltTM steel buildings capitalize on basic box designs, there are a number of add-ons available, too. Choose from the following options to customize your HyperBuiltTM quick construction kit:
Upgraded painted steel roof with a 40-year warranty
R-10 or R-13 roof and wall insulation packages
Upgraded wind loads from 115-145 mph
Colorful wainscot wall and trim packages
Gutters and downspouts with kickouts
DripXTM condensation barriers
Additional framed openings for either endwalls or sidewalls
For a small additional fee, the kit will ship on a lift-type delivery truck, which unloads the steel framing at the job site.
You Can Depend on RHINO Steel Buildings
Thousands of satisfied agricultural, aviation, commercial, industrial, and residential customers depend on RHINO for their steel building quick construction needs.
Discover how much time and money you can save with a lightning-fast HyperBuiltTM metal building kit. Call RHINO at 940.383.9566. Speak to one of our professional metal building experts today. See if our new HyperBuiltTM steel building kits are right for your next building project.