RHINO History
Founded in 1998, the RHINO Steel Building Company is headquarters are located in Denton, Texas. However, RHINO has multiple shipping locations all across the U.S.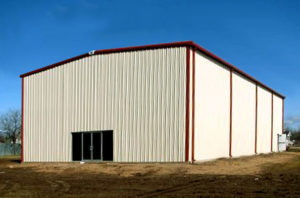 RHINO began with a clear vision. Quite simply, if you treat every customer as you would like to be treated— with respect, honesty, and integrity— they will buy from your company time and time again and tell others about their RHINO building experience.
Time has proven that simple formula works.
Over 30% of all orders for RHINO building systems in the past twelve months have been from previous clients or those referred to RHINO. The Better Business Bureau has honored RHINO with an A+ rating— the highest available.
RHINO Steel Building Company Today
In its 21 years of operation, RHINO has experienced unprecedented growth by providing a strong product and a solid commitment to serving the customer's needs.
We believe most customers choose a steel building based on the quality of the building system, as well as honesty, attention to detail, and excellent customer service that extends beyond the delivery date. That philosophy has worked well for RHINO.
Today thousands of RHINO prefabricated steel buildings stand in all 50 states, Canada, and Mexico as a testament to The RHINO Difference.
The Product
RHINO prefabricated metal buildings work for virtually any building application imaginable:
Agricultural
Barns
Aircraft Hangars
Automotive or Welding Shops
Churches
Commercial Buildings
Garages
Home Storage or Hobby
Industrial Buildings
Manufacturing Plants
Recreational Buildings
Restaurants
Riding Arenas or Stables
Storage Buildings
Suburban Buildings
Transportation/Trucking
Vehicle Dealerships
Warehouses
Workshops
A RHINO prefabricated metal building is specifically designed to meet all wind load, snow load, and seismic requirements for the specific area in which the building is to be erected, as well as other requirements and steel building codes related to the performance of the structure.
There are many advantages to using RHINO's prefab metal buildings system:
Our prefab metal buildings have all the framing components cut, welded, and drilled at the factory, so everything arrives at the job site clearly marked and ready for bolt-together assembly.
Prefabrication gives many do-it-yourselfers the option of erecting their own building with a few friends. However, for those who are not interested in constructing their own building, RHINO can recommend experienced steel erectors in your area.
You can cut construction time by as much as 33% by choosing a RHINO prefab metal building.
Stronger: Steel is stronger and more durable than other construction materials. A RHINO steel building kit is built straight and stays straight for the lifetime of the building. It provides better protection from high winds, heavy snows, lightning, fire, earthquakes, mold, and termites than ordinary wood framing.
RHINO prefab metal buildings are built to last. Our steel buildings retain their beauty and value for decades, without experiencing that "tired," droopy look common with older wood structures. A well-built metal building constructed of high-quality materials is virtually maintenance free.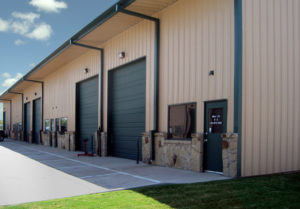 More Flexible: Prefab steel framing is self-supporting. Because of the superior strength of steel, RHINO buildings can span much further than other building materials without needing support columns or load-bearing walls, so 100% of the interior is usable space.
RHINO prefab metal buildings can clear span from 10' to 150' on all standard designs. Our building system can easily span 200' or more with a custom quote. With one support column in the center, RHINO buildings can be up to 480' wide. Any building length is possible with the RHINO building system.
Later expansion is both easy and economical by simply ordering more framing to add at either end wall.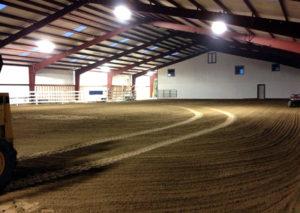 Greener: Metal buildings are also a green building choice. No other substance on earth is recycled as much as steel— more than glass, plastic, and paper combined.
Unlike all other recycled materials, steel can be recycled repeatedly and still not lose any of its inherent strength characteristics.
With better insulation, like RHINO's Pro-Value Insulation Package, steel buildings can also be extremely energy efficient— another eco-friendly benefit— saving as much as one-half on energy consumption.
There is quite simply no better way to build than with a structure from the RHINO steel building company.