OUR STANDARD METAL BUILDING KIT
Whatever your construction project, a RHINO building design will fulfill all your building needs.
RHINO Metal Building Basics

RHINO standard metal building bay spacing is 20′ and 25′ between main steel frames. However, optional bay lengths up to 40′ are possible.
We offer a variety of end wall metal building designs, depending upon your specific building demands.
Post and beam endwalls are standard metal building components. Optional "rigid steel frame" end wall metal building designs are best if an addition to the structure is planned for the future, or where a large opening such as an aircraft hangar door is essential.
RHINO's building consultants will answer all your questions and assist you in determining exactly which of our seven framing styles best fit your application. Your RHINO metal building design will include the perfect width, length, and height for your specific needs.
RHINO Metal Building Kit Contents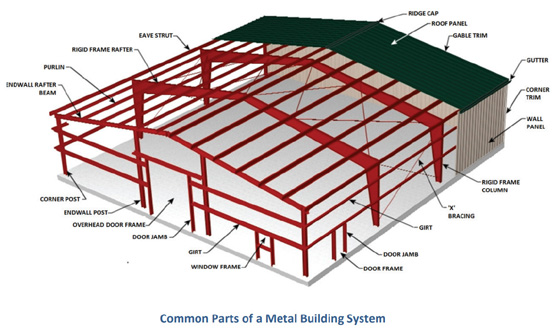 Every RHINO building order comes with three complete sets of plans and a detailed anchor bolt plan for your project. An engineer licensed in your state stamps all your plans.
In addition, a standard RHINO metal build kit provides these value-added benefits:
100% commercial-grade rigid-steel framing
Prefab metal building components cut, welded, and drilled at the factory for simple bolt-together assembly on the job site
Post and beam end walls
Clips pre-welded to the frames for easy attachment of girts and purlins
High-strength bolts and nuts for strong framing connections
Framing for a door opening up to 30' wide
Cover trim for all framed openings
Building trim in a choice of colors
Fast delivery, typically in 6-7 weeks from order
A complete Bill of Lading listing all metal building components
3 sets of Engineer-Stamped Plans with a Letter of Certification
An anchor bolt plan
A 49-page Installation Manual and Construction DVD
Additional RHINO Steel Building Kit Features
All these superior weatherproofing and quality-enhancing metal building components are also included as part of our standard steel building kit: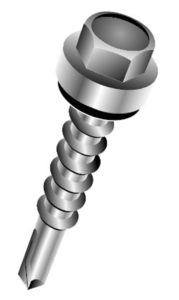 Self-Drilling Fasteners: RHINO supplies self-drilling cast zinc fasteners for Galvalume® sheathing as standard with all models.
A lifetime warranty ensures no red rust will form on the cast zinc head.
A strong, abrasive-resistant, long-lasting EPDM sealing washer provides a tight waterproof seal— even under the harshest weather conditions. The seal also protects from ozone and ultraviolet damage.
This results in a stronger, more durable structure.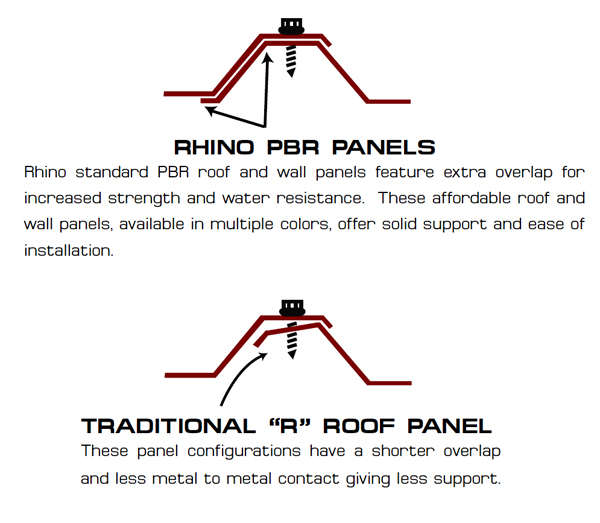 Higher Quality Exterior Panels: Strong PBR (Purlin Bearing Rib) roof and wall panels of 26-gauge high-tensile steel are also standard in RHINO's metal building designs.
These attractive and durable PBR panels feature extra overlap for increased strength and extra water resistance.
Unfortunately, other metal buildings use ordinary "R" panels with shorter overlap. R-panels produce less metal-to-metal contact and, therefore, a weaker connection.
Galvalume® coats our sturdy steel panels for increased weather defense. The color baked on top of the Galvalume® provides an additional layer of protection.
The Galvalume® coating carries a 25-year warranty. The color coating has a 30-year warranty on these metal building components.
RHINO's Extra Waterproofing Features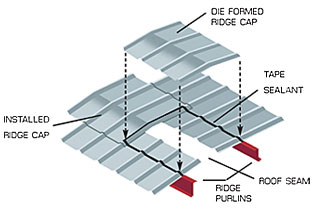 RHINO Ridge Caps: Our die-formed ridge caps conform to all standard panel shapes, providing a much snugger seal at the roof seam. This ensures a metal-to-metal contact for a tighter seal and improved pest control.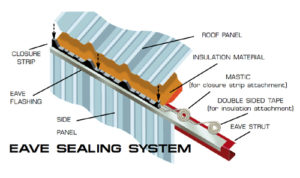 Weatherproofing: Another standard RHINO weatherproofing feature is the eave sealing system. Specially designed foam rubber "closure strips" seal the eaves, base, and roof.
The mastic and double-sided tape for the closure strips is also included as part of the standard RHINO metal building package.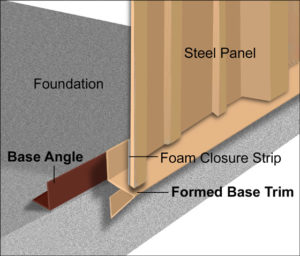 Formed Base Trim: RHINO's formed base trim provides a colorful steel edge on which the wall panels rest. This trim produces two major benefits:
First, it eliminates the need for a 1-1/2″ notch in the concrete around the perimeter of the slab. Thus, your panel will not rest directly on the concrete, causing rust.
Secondly, the formed base trim typically saves an average of four yards of concrete on a 5,000 sq. ft. building—an average $300 savings on the concrete.
The base trim is available in the same matching colors as the wall panels.
More RHINO Building Options
The RHINO standard package works for almost every application imaginable. However, we also offer many metal building components and options that further enhance your metal building kit for your specific needs.
RHINO Building Professional Assistance
RHINO makes it easy to purchase a quality steel building.
Our building specialists will assist you in developing your metal build kit design. They will also assist you in choosing the options and accessories that best fit your building requirements.
Please contact RHINO Steel Building Systems today at 940.383.9566.