You Can with a Pre-engineered DIY Metal Building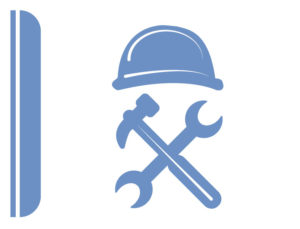 At RHINO Steel Building Systems we are often asked, "Can I build my own metal building?"  The quick answer is, "Probably."
To the serious do-it-yourselfer, erecting their own DIY metal building seems like too good an opportunity to pass up.  After all, putting up the structure yourself saves money— and brings enormous satisfaction.
Besides, it is just plain fun!  A RHINO metal building is like an adult-sized version of a kid's erector set.
In addition, prefabrication takes the guesswork out of metal building construction.
The DIY steel building kit arrives with every piece already cut, punched, painted, and ready to assemble.  No welding is required.  Every piece is clearly marked to correspond to its location on the plans.
So Can You Build Your Own Metal Building?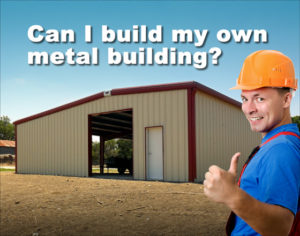 So, how do you know if you are ready to build your own metal building?
In general, the most successful do-it-yourself steel building owners:
Have some prior construction experience
Know dependable friends or family members willing to help
Study the building manual thoroughly before starting construction
Follow all the safety instructions in the manual carefully
Work on small to medium-sized buildings
Call RHINO immediately with any questions
How Much Money Can I Save by Erecting DIY Steel Building Kits?
Raising your own building saves big bucks over hiring a contractor to do the job.  An experienced metal building erection crew generally costs $3.50 to $4.00 per square foot, including trim and insulation installation.
Estimate the costs of doing it yourself, in both time and money.  Find out what equipment you will need to buy and rent for the job— screw guns, hard hats, gloves, forklift, scissor lift, crane, etc.  Get quotes on the necessary equipment— and for an operator, if needed.
Are You Up to the Do-It-Yourself Steel Building Challenge?
So, are you still wondering, "Can I build my own metal building?"  Do you feel confident that you understand the process?
Study the RHINO Installation Manual.
Take careful note of the safety precautions.  RHINO also offers an Installation Video on DVD for $25 (which is rebated upon purchase of a RHINO building).
If you are confident in your abilities and your understanding of the metal building erection process, go for it.  If you have any doubts, it may be wiser to hire an experienced contractor and erection crew.
Ultimately, only you can decide if you're ready to build your own steel building.
Speak to a RHINO Metal Building Specialist Today
Many of RHINO's customers opt to assemble their own DIY metal building kits with phenomenal results.
In fact, half of our clients erect their own framing.
"The building went up without a hitch; everything bolted up with little effort."  — Jay Welden
 "RHINO… followed up quickly and even after the building was paid for and delivered they continued to check up until and throughout the erection process."  — Willis Ponds
"The building went together very easily and all parts were included in the pre-engineered structure.  Good experience working with RHINO Building."  —  Wayne Hawk
Over the years, our experts have encountered every conceivable do-it-yourself steel building challenge.  We are well equipped to answer your every question.
Give RHINO a call today to learn more about building your own metal building with our DIY steel building kits.  Our number is 940.383.9566.
(Updated 12-1-2021.  Originally published 7-28-2017.)