Green Construction Choices Stretch Our Natural Resources
Green building helps protect our planet. Here are just a few of the reasons why green building is so important, other than the cost savings of green buildings.
Green Building Helps Leave a Legacy for Future Generations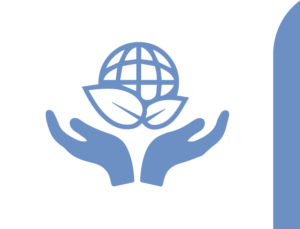 The goal of all eco-conscious strategies is simple: find ways to meet our present needs without sacrificing future needs.
After all, our resources are finite.
Forests are dwindling.  Urban sprawl gobbles up more undeveloped land acre by acre.  Non-renewable fossil fuels like oil, gas, and coal diminish by the day.  Even freshwater resources are ebbing away drop by drop.
Green construction for conservation is no longer an option; it is our obligation to all future generations.
Recycled Building Materials for Green Building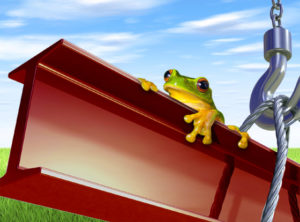 Choosing to build with long-lasting, eco-friendly, energy-efficient building products will:
Preserve natural resources
Dramatically reduce energy consumption
Promote good health and productivity
Improve comfort and indoor air quality
Decrease dependence on foreign fuel imports
Stretch landfill space
Attract eco-conscious customers and renters
Reduce greenhouse emissions
Conserve water
Pay off financially by lowering operating costs
Building Green Starts with Recycled Steel
Green construction starts with recycled steel framing, creating energy-conserving buildings like these:
Businesses
Churches
Farms and ranches
Homes
Industries
Municipal structures
Recreational buildings
Schools
Why Recycled Rules the Market Today
Steel is considered a green building supply because it is 100% recyclable.  In fact, steel is the most recycled material in the world.
Using Recycled Steel Saves Energy
It takes far less energy to melt and recycle steel than to create virgin steel from iron ore.  Every ton of steel recycled saves 642-kilowatt hours of energy— 10.9 million Btu's of energy.
Recycled steel saves enough energy every year to power 18 million households for 12 months.
Recycling Steel Saves Resources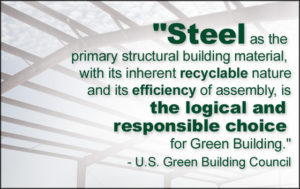 Did you know that every ton of recycled steel conserves 2,500 pounds of iron ore, 1,400 pounds of coal, and 120 pounds of limestone?
In addition, the more steel we recycle, the less products end up in overcrowded landfills. In fact, every ton of steel that is recycled— rather than discarded— saves almost 250 cubic feet of landfill space.
Framing for a 20,000 sq. ft. commercial steel building is produced from the recycled steel from about 50-60 junked cars. On the other hand, wood framing for the same building would sacrifice ten acres or more of forest.
With RHINO steel buildings, 100% of the steel framing and steel cladding is recyclable at the end of the structure's lifecycle.
In addition, the more builders that choose steel framing over wood framing, the more live trees are available to replenish our atmosphere with life-sustaining oxygen.
Conclusion
The king of recycled building materials is recycled steel.
Depend on RHINO as Your Green Building Supply
Help save the planet!  Build eco-friendly, energy-efficient, prefabricated steel structures from RHINO.
Call today for details on how you can build green with RHINO steel buildings.
Speak to a RHINO steel building specialist now by calling 940.383.9566.
(Updated 9-30-2021.  Originally published 4-3-2015.)