PRO-VALUE: The Best Metal Building Insulation Choice
RHINO offers two basic products for metal building insulation. Both of these insulation options install easily and offer big savings in energy costs.
The first insulation option is fiberglass insulation from 3″ to 8″ thick, providing for R-10 to R-30 energy ratings. This fiberglass insulation for metal buildings has a reinforced backing, eliminating the need for chicken wire support— saving you labor and money.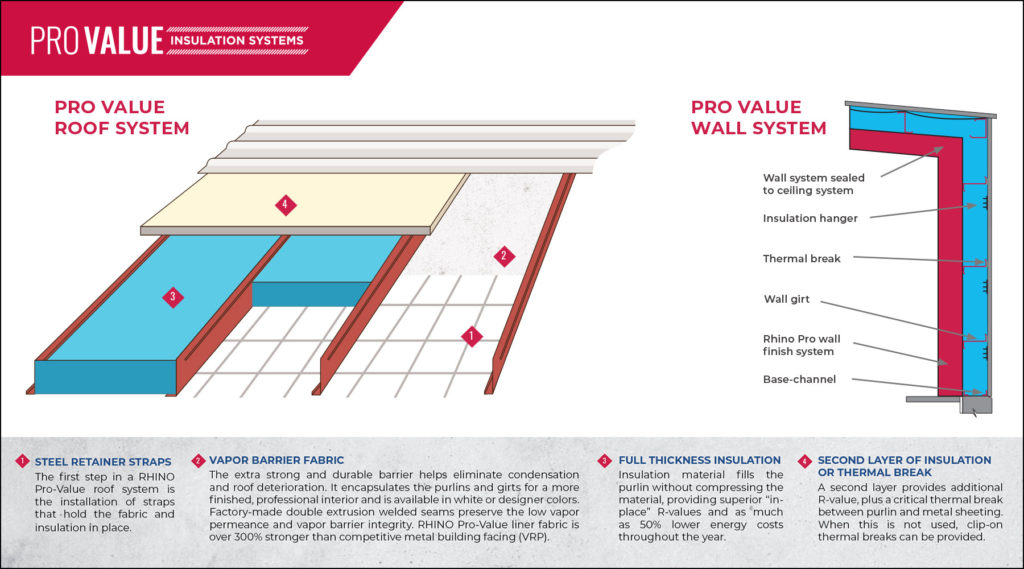 However, the best metal building insulation system is RHINO's premium Pro-Value Insulation Package. This is definitely the top choice for money-conscious customers who demand superior performance and long-term energy savings.
With the four-part, premium grade Pro-Value insulation for metal buildings, you will reap maximum energy savings.
In fact, you will quickly recover your initial investment for a Pro-Value insulated metal building by saving as much as 50% on your building's utility bills.
With the Pro-Value insulated steel building package, you will also enjoy the added satisfaction of knowing you are doing something good for the environment by conserving energy.
This makes our insulation liner systems ideal for garages, barns, sheds, and more.
Contact us directly for more information on how to insulate a metal building, garage, barn, or shed.
Steel Building Insulation with Full Insulation Value
RHINO steel building framing systems create much deeper walls than other building materials, allowing room for more ultra-energy-efficient insulation choices.
With deeper wall cavities, the insulation is not compressed, as it often is in other framing systems. Therefore, you will realize nearly the full R-value in RHINO buildings.
Examine the chart above to see the potential increase in energy efficiency and savings that comes with RHINO insulated metal buildings.
Our Pro-Value packages are available in R-19 to R-30 for walls and R-20 to R-40 roof systems.
For optimal energy savings, we recommend completely filling the purlin and girt cavities with insulation.
Sealed Insulation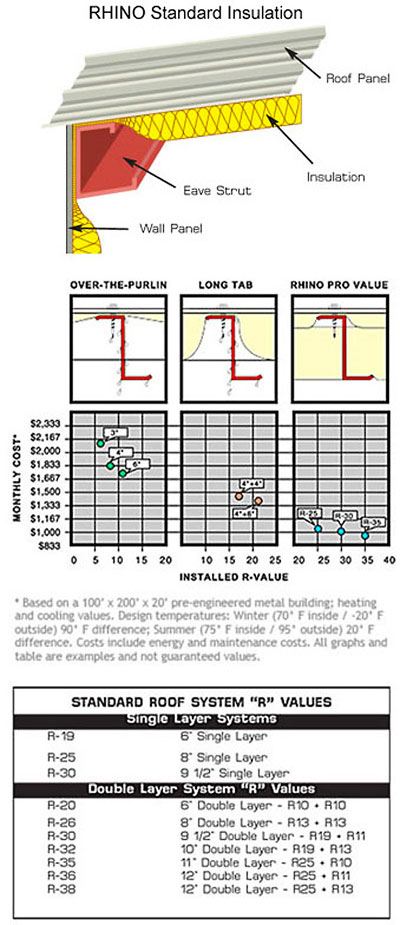 Insulation for metal buildings installs around the eave strut (as shown in the illustration right). RHINO's standard closure strips and mastic sealing offer added protection for your metal building against harsh weather conditions.
The RHINO Pro-Value vapor barrier fabric is 300% stronger than the vinyl film commonly used by many other metal building companies.
With its bright white appearance, most metal building owners opt to use the exposed interior finish of the extra strong and durable vapor barrier fabric as the primary finish. Consequently, no painting or costly maintenance is necessary.
In addition to the bright white vapor barrier, other decorator color choices are also available.
The RHINO Pro-Value Insulation Package provides great benefits to the building owner, including:
Superior "in-place" R-values for both roof and wall cavities, with no steel building insulation compression or voids
Significant long-term savings on energy costs and HVAC and lighting utility investments
Below the purlin vapor barrier that brightens interiors, helps prevent condensation, and eliminates stapled or gravity seams
Superior sound absorption for a much quieter building (NRC 0.75)
Extended building life and lower maintenance
Insulation for metal buildings that saves as much as 50% on energy consumption
---
Call the Steel Building Insulation Experts at RHINO Today
We firmly believe that the RHINO Pro-Value Insulation System is the best metal building insulation available today.
For more information on how to insulate a metal building efficiently, speak to an experienced RHINO metal building specialist. Call us now at 940.383.9566.