HOW BETTER INSULATION FOR STEEL BUILDINGS DRAMATICALLY IMPROVES ENERGY BILLS
Non-residential structures constructed with pre-engineered commercial metal buildings can reap huge energy savings— with the right insulation package. In fact, proper insulation for steel buildings can provide decades of energy savings.
Deeper Wall Cavities in Commercial Metal Buildings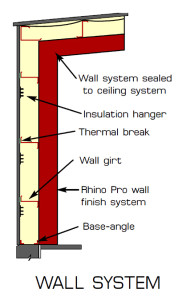 Insulation packages for commercial pre-engineered steel buildings are environmentally "green." Investing in premium-grade metal building insulation saves natural resources— and the greenbacks of the property owners.
The walls of pre-engineered metal buildings are by design deeper than ordinary 2×4 wood-framed walls. Installing thicker metal building insulation significantly reduces cooling and heating costs.
RHINO metal building insulation packages range up to R-30 for walls and up to R-40 for roofs. The higher the R-value of the insulation chosen, the greater the energy savings.
Completely filling the cavities— without compressing the insulation— provides optimum energy savings. The insulation in a RHINO wall or roof is not compressed, so nearly the full R-value is realized.
Pro-Value Insulation Slashes Energy Consumption
RHINO's Pro-Value Insulation Package delivers maximum energy efficiency, reducing energy expenditures. Customers who chose Pro-Value insulation for their metal building insulation projects report utility bills running as much as 50% cheaper than expected.
Durable, washable vapor barriers available in the Pro-Value insulation package are 300% stronger than the flimsy VRP facing provided by many companies in insulation for steel buildings.
In addition, Pro-Value metal building insulation seals around the eave strut with closure strips and mastic included with the RHINO package, for even greater energy efficiency.
See the RHINO insulation web page for details.
Cool-Coated Roof Panels— an Additional Way to Save
RHINO also offer optional reflective cool-coated steel roof panels. These highly reflective panels work particularly well in locations with extreme summer heat. (However, cool-coated panels are not recommended in areas with mild summers and harsh winters.)
Ask for a Free RHINO Quote Now
Our highly trained and experienced metal building specialists will answer all your metal building and insulation questions. We would be happy to give you a free estimate for your upcoming commercial project, including a money-saving Pro-Value insulation package.
Don't delay. Call RHINO today at 940.383.9566 for a bid on your next steel building project and information on insulation for steel buildings.