More and more people now choose cool-coating steel roof panels to top their pre-engineered steel buildings.  In fact, cool metal roofing today account for 25%-30% of all steel metal roofing sales.
What Is Cool Roofing For Metal Roof Insulation?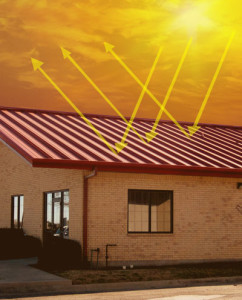 A relatively new technology, "cool coating" allows steel roof panels to reflect 40%-50% of heat away from the building and back into the atmosphere.
Discovered as a result of the military's coatings developed for stealth aircraft, this infrared (IR) reflectivity innovation creates a practical way to save money— and our planet— by drastically reducing energy consumption.
Saving Money With Metal Building Cool Roofing
So how much can you save on utility bills with a cool-coated roof as part of your metal roofing insulation?
Savings vary, of course, depending on location. "Metal Construction News" reports cool-coated roofing saves on average 7%-15% on overall utilities.
One California study concluded cool roofing generated about 50 cents of annual net savings per square foot. Another study in Georgia tracked two almost identical 90,000 square foot school buildings in two neighboring school districts. One had a standing seam metal roof, the other a cool-coated steel roof. The metal roofing with insulation reaped an $8,800 energy savings the first year alone.
With metal roof insulation, lower interior temperatures also mean less wear and tear on air conditioning, extending the life of the cooling units.  (It might even reduce the size of the cooling unit needed.)
Reflectivity expands the life expectancy of the roof itself, too. Since the surface of the roof is so much cooler, there is far less expansions and contraction as the temperature changes throughout the day. With proper metal roof insulation, the roof lasts years longer, reducing maintenance costs.
RHINO Products that Save Money
Adding RHINO's top-of-the-line Pro-Value Insulation Package to a prefabricated metal building saves even more on energy consumption. Many of our customers report 40%-50% savings on utility bills with the Pro-Value package.
RHINO's steel building specialists know the prefab steel industry inside and out, and are happy to answer every question and offer free estimates on any low-rise metal building project and metal roof insulation.
Please call today at 940.383.9566 to discuss all the benefits of cool-coated exterior panels and steel roof insulation.
Also see "How Cool Metal Roofing on Steel Buildings Saves the Environment."