So Much More than the Typical Outdoor Storage Sheds
Everyone needs storage buildings today.
Surrounded by mountains of "stuff"— bought, collected, and received as gifts or inheritances— we are drowning in debris.  The attic, basement, closets, and garage all overflow with our stuff.
Clear out the clutter! Build your own affordable metal storage building from RHINO.
Why Choose a RHINO Prefab Steel Storage Building?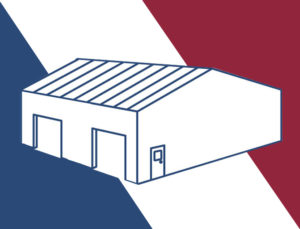 Why spend money month after month on those dinky self-storage units?
When it comes to RHINO storage structures, we are not talking about those wimpy little outdoor storage sheds used to store your mower and a few gardening tools.  We are talking about a roomy, long lasting, high-quality metal storage building.
Wouldn't you rather store your treasures out of sight, but not out of reach?  Accessibility is one of the main advantages of strong, durable prefab steel buildings.
And no structure safeguards your valuables like a RHINO-tough storage steel building.
RHINO Steel Storage Buildings: Designed for YOU
You do not need to choose from tiny "cookie-cutter" outdoor storage sheds.  RHINO designs a metal storage building to your exact needs.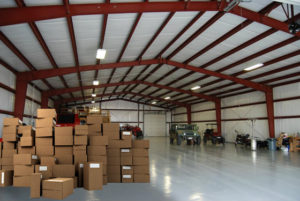 With RHINO metal shed kits, you can exactly fill your storage needs. For example:
SMALL LOT? Order a two-story metal building for double the space.
NEED MORE GARAGE ROOM? Select a dual-use steel building with overhead doors for vehicles and RVs— plus lots of storage space.
WANT TO COMPLEMENT YOUR HOME? Match your RHINO steel storage building to your home.  Choose colorful heavy-duty steel panels, stucco, brick, stone, or wood for the exterior.
DO-IT-YOURSELFER? Many RHINO customers erect their own metal storage building.  Manufactured to strict tolerances, RHINO metal shed kits arrive ready to assemble.
EXTREME BUILDING CODES? No problem.  RHINO certified steel framing will meet or exceed all your current local building codes for the lifetime of the structure— guaranteed.
The Long-Term Advantages of a RHINO Metal Storage Building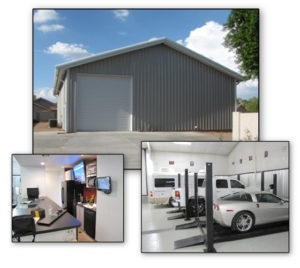 RHINO metal building buyers enjoy many long-term benefits, including:
HIGHER VALUE: A roomy RHINO steel structure greatly enhances the value of your property.  However, typical storage sheds add little value to your property.  In fact, faded older wooden or metal sheds might turn buyers off and detract from your selling price.
ENERGY SAVINGS: RHINO's top-of-the-line Pro-Value insulation cuts heating and cooling costs by 50% or more.
ULTIMATE PROTECTION: RHINO steel buildings deter termites and damage from high winds, earthquakes, fire, lightning, and snow much better than other construction methods— especially those cheaply made outdoor storage sheds.
WATERPROOFING FEATURES:  RHINO metal buildings include many built-in waterproofing features you will not find in cut-rate metal shed kits or with other steel buildings.
MAINTENANCE: All RHINO steel buildings and metal storage sheds require very little upkeep.
Conclusion
Why settle for one of those temporary outdoor storage sheds when you can enjoy a roomy RHINO multi-purpose metal storage building?
Multiple Uses for RHINO Steel Storage Structures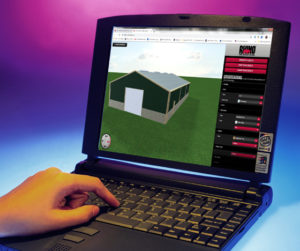 Dream big, and plan big with RHINO steel storage structures.  Include room for more than just storage in your design.
You can even design your own structure with RHINO's free 3-D online design tool!
Add a space for a home gym, man-cave, she shed, workshop, home office, or even a guest room.  Add bays for your cars, boat, RV, and yard tools.  Make the space your own.
For more information about RHINO prefab storage buildings and steel structures, call RHINO today at 940.383.9566.  
(Updated 6-17-2020.  Originally published 3-11-2014.)