Americans take their recreation very seriously.  Almost nine million households in the U.S. own a recreational vehicle.  Nearly seventeen million Americans own a boat.  As much as we love all the camping and boating fun, RVs and boat storage can be challenging. Steel storage buildings kits & sheds kits offer the best solution for boat and RV protection.
Residential Steel Storage Buildings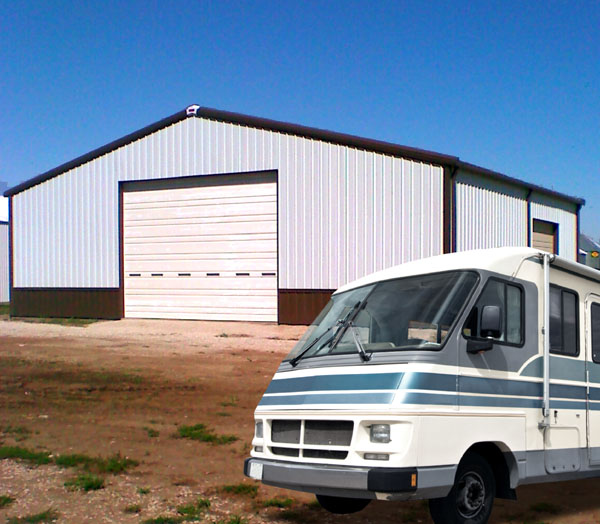 Having your own metal RV garages for your RV or boat storage buildings is, of course, ideal.
Pre-engineered steel storage building kits are available to house even the biggest RV or recreational boat comfortably.  Overhead doors on both ends of the structure for a "pull-through" metal storage building make parking and storing more convenient.
Consider building a multi-purpose prefabricated steel storage building kit.  Not only will you have a safe, sturdy place to protect your RV or boat, but a handy place for additional storage.  Include room for cars, ATVs, jet skis, or camping and other sports equipment.  Or how about adding a game room, an exercise room, a shop, a hobby room, or a home office to the plans for your new steel RV or boat garage?
Commercial Steel Storage Building Kits, Metal RV Garages, And Boat Storage Buildings
Over the past twenty years smaller lots have become the norm in new homebuilding.  Sometimes smaller yards make parking RVs or boats difficult.  Some city ordinances and homeowner associations prohibit permanent parking of boats or RVs in driveways or streets.
For many, self-storage units for boats and RVs become a necessity more than an option.  To capitalize on the need, profit-savvy self-storage facilities include metal RV garages and boat storage buildings.
There is no better time to expand current self-storage businesses— or start a new mini-warehouse enterprise— with larger units for boats and RVs.
8.5% of U.S. households currently own an RV
21% of U.S. households surveyed say they plan to buy an RV in the future
82 million Americans participate in boating every year
Fishing enthusiasts outnumber golfers 2 to 1
The average angler spends only 32 days of the year actually on the water, leaving 333 days the boat must be stored somewhere
Why Build RHINO Metal Storage Buildings for RVs and Boats?
RHINO prefab metal buildings require far fewer pieces for an exceptionally strong structure
Parts are cut, welded, punched, and marked at the factory for easy assembly
Steel storage building kits are available in any size needed for RVs and boat storage
Standard steel storage buildings ship in as little as five weeks
Multi-purpose or customized steel storage buildings also available
RHINO steel-framed structures meet all local building codes
Steel buildings ship anywhere in the U.S., Canada, or Mexico
Let our experienced steel building specialists answer your questions about metal RV garages and boat storage buildings. Free estimates are available for steel storage building kits & RV garage kits. Call today for more information on RV and boat storage buildings: 940.383.9566.