Sturdy Steel Garages for Home and Business
RHINO Steel Building Systems designs high-quality DIY metal garages for both residential and commercial use.
Our customers know that no structures are more rugged than RHINO-tough prefabricated metal buildings.
The Commercial Uses of RHINO Metal Garages and Steel Buildings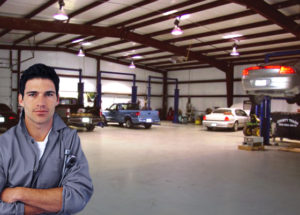 Businesses choose RHINO prefab metal garage kits of all sizes for these applications and more:
Auto, boat, motorcycle, RV, tractor, and truck dealerships
Vehicle repair shops
Car, truck, boat, and RV storage facilities
Tractor and farm equipment
Heavy construction equipment sales and repair shops
Tire stores
Welding shops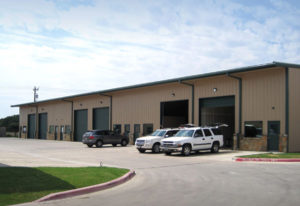 RHINO pre-engineered DIY garages and buildings include framed openings. Doors and openings can be located anywhere required by the customer.
You may choose from a variety of optional overhead doors in drum or sectional styles.  Standard overhead doors are available up to 36' wide.  You may also select manual lift or electric lifting systems.
Where wider doors are needed, 45' and 60' wide overhead doors are also available.  On these larger doors, choices include manual, electric or hydraulic lifts.
Sliding hangar-style doors can also be supplied.
RHINO's overhead doors are certified wind rated to meet all current local building codes.  Optional insulated doors are available.
Personal Use RHINO Steel Garages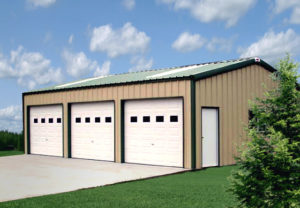 Homeowners also use RHINO DIY garages.  They find RHINO prefab garage kits are perfect for many uses, including:
Additional vehicle storage
Boat and RV garages
Storage space
Man caves and she sheds
Multi-purpose structures
Hobby buildings
In-law apartments
The Advantages of RHINO DIY Metal Garage Kits
Competitively priced RHINO steel prefab garages offer many benefits, including:
Fast delivery, usually within 6-7 weeks from order date; (delivery in as little as 4 weeks on some standard designs)
Ready-to-erect prefab steel framing
Quicker assembly, typically saving one-third on construction time
Open, clear span widths for up to 150' of unobstructed space on standard designs; up to 300' wide with a custom quote
Widths can reach up to 480' with a center support column
Wall heights up to 40' tall; (even taller wall heights possible on custom quotes)
Noncombustible steel framing, reducing fire risk (and lowering insurance premiums with most carriers)
Better protection from high winds, heavy snows, rain, rust, lightning, mold, earthquakes, termites, and aging than typical building systems
Super energy efficiency, with the RHINO's optional Pro-Value Insulation Package, which may save as much as 50% on utility bills
Framing guaranteed to meet or exceed all current local building codes and loads for the lifetime of the structure
A truly environmentally-friendly building system, since steel is the most recycled substance on earth
Unlike web truss buildings, you need not worry about birds fouling your building contents with RHINO steel garage kits. RHINO's rigid-frame steel garage kits provide no place for birds to roost or nest in the ceiling.
Learn more about the RHINO Difference in prefab steel garages and metal buildings by downloading a free RHINO brochure.
Designing Your Own Metal Garages

Try the easy-to-use RHINO 3-D Online Design Tool to plan your own commercial or residential prefab garage kits.
Call us today! Speak with a qualified steel building expert about your individual requirements for DIY metal garage kits or other structures.
The RHINO number is 940.383.9566.