Steel Buildings for Backyard Hideaways, Part 10
Host your family's next Thanksgiving dinner, your son's scout meeting, or a barbeque with your co-workers in your own steel party building. People who love to entertain guests will love having the perfect steel event center in their own backyard.
Sharing Your Gift of Hospitality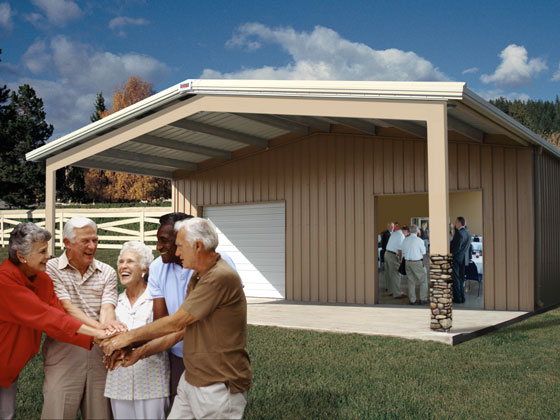 Some people have a true gift for hospitality. They have a way of making even a casual gathering both enjoyable and memorable. Gifted hosts truly enjoy gathering with friends, family, or business associates. Everyone feels wanted and welcome in their home.
However, finding room to entertain at home often presents a problem.
The space available controls the size of your guest list. Consequently, many events you would like to celebrate is style are ignored for lack of space— or moved to a cold and generic commercial venue, rather than the warm, inviting atmosphere of your home.
Just Imagine the Party Possibilities
You design your own steel event center for entertaining. Think carefully about what you want to include. Will you need powder rooms, a gourmet kitchen, a big screen TV and sound system, a fireplace, or a bar?
Live in a mild climate and enjoy entertaining outdoors? Consider a leisure steel-framed pavilion. Picture picnic tables, a full outdoor kitchen, an open fire pit, comfortable lounge chairs, soft music and a soft breeze, the sound of laughter and crickets, and the tantalizing smell of big thick steaks sizzling on the grill.
Unlimited Celebrations in Your Own Metal Party Building
Our event barn kits are amazingly versatile for entertaining.
The clear span interior provides the freedom to arrange and decorate each celebration as you see fit. Whether you plan a backyard barbeque, a business meeting, a child's birthday party, a casual buffet, a wedding rehearsal dinner, or an elegant catered candlelit dinner party, having your own on site event building makes it easy to arrange the perfect setting.
Once you have a ready-to-go steel event center or party barn in your own backyard, you will find even more reasons to celebrate, such as:
BUSINESS:

Company picnics or barbeques, entertaining customers, dinner with potential clients, team-building meetings, sales meetings, casual get-togethers with co-workers

FAMILY:

Christmas parties, Thanksgiving dinners, birthday bashes, anniversary parties, family reunions, picnics, barbeques, graduation celebrations

FRIENDS:

Poker night or bridge games, viewing football games or other sporting events, pool parties, dinner and dancing with a live band or DJ, picnics

GROUPS:

Sport teams, scout meetings, church potluck dinners, Sunday school class dinners, club meetings and dinners, block parties
Why Choose a Pre-engineered Metal Party Building?
All RHINO steel party & event barns are manufactured using the same high-grade steel. Your backyard steel party building reaps all the same benefits commercial steel builders enjoy:
Strongest possible building
Cost-effective construction
Unobstructed interiors
No exterior design restrictions mean that your event barn kit looks exactly the way you want it
Greater resistance to fire, lightning, termites, vermin, leaks, earthquakes, high winds, mold, rot, and aging than ordinary wood framing
Reduced insurance premiums
Factory-made, ready-to-assemble framing kit
Easy to understand erection instructions for do-it-yourselfers or professional framers
Dependable, maintenance-free structure and long lasting value
Eco-friendly, recycled content building material with little waste
50% savings on utilities and reduced outside noise (with optional Pro-Value insulation)
Designed to fit your specifications and your local building codes
Rigid commercial-grade steel framing
If you choose, you can make your metal party building a dual-use structure and include a man cave, woman cave, storage area, garage, hobby or workout room, or a home office.
Call RHINO today at this number to learn about our event barn kits: 940.383.9566.