Home Alone: Steel Buildings for Backyard Hideaways, Part 1
Creating a metal building man cave speaks to the very core of man. After all, construction does not get any more macho than steel!
Popularity of "Hideouts for Him" Soars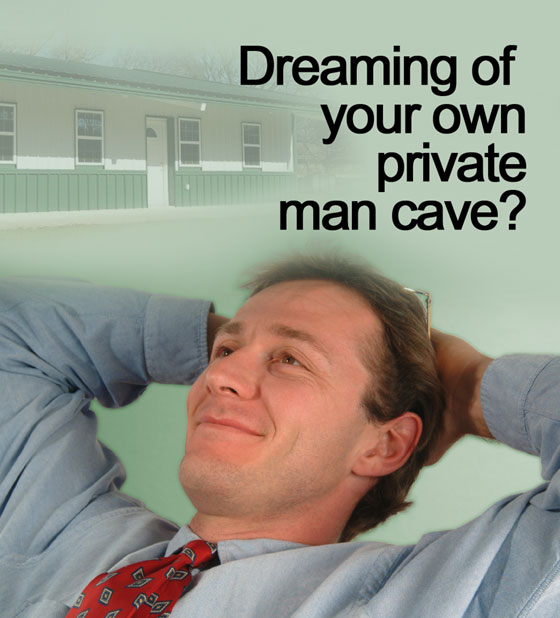 Building, creating, and furnishing personal male domains— known as "man caves"— is big business these days. There are books on building a man cave, TV shows performing man cave makeovers, endless companies selling goods to furnish and decorate a man cave, plus countless Internet and magazine articles providing tips on man cave planning.
Why all the interest in man caves?
Every little boy longs for a hideout… somewhere to be alone, or spend time to be with your best buddies… a private clubhouse or treehouse where no grownups— or girls— are allowed.
Even as adults, we men still need a space to mark as our own— a place to think, enjoy hobbies, watch the big game with the guys, or just sit in glorious, uninterrupted solitude. We need a man cave.
Why settle for a drafty space in the garage or a dank and dreary corner of the basement as your private space? In recent years, many men opted to construct their own metal building man cave.
Why Choose a Metal Man Building Cave?
RHINO metal building man caves are:
• Affordable
• Quick and easy to erect with simple bolt-and-screw-together framing
• Practically maintenance free
• Valuable to your property
• Easily expandable
• Energy efficient with RHINO's Pro-Value insulation package
• Strong and long-lasting, retaining beauty and value for decades
• Versatile, functional, flexible, handsome ,and practical
• Resistant to fire, high wind, termite, earthquake, mold, and lightning
• Commercial-grade recycled steel framing
• Able to clear span for obstacle-free interior
Choosing the Size of Your Steel Building Man Cave
Your metal building's size is determined on your vision of how you will use the building, the space available on your property, and your budget. However, it is only fair to warn you that furnishing and building a man cave often becomes an on-going project.
The "theme" of a steel building man cave reflects the interests and personality of the "caveman" in charge. It is an expression of who he really is at the core. It could be an upscale pub, a rock and roll bandstand, a plush, private movie theater, a classic car garage, a meat lover's grilling paradise, a brewery, a 50's diner, or anything else imaginable.
This hideaway houses the hobbies and entertainment of specific interest to the king of this steel-framed castle. A metal building man cave could include a large screen TV, stereo system, refrigerator, bar, grill, full kitchen, comfortable seating, poker table, pool table, videos games, fireplace, a putting green— whatever reflects your interests.
What is Your Ideal Metal Building Man Cave?
Decide on your ideal metal building cave and call RHINO for a free estimate on building a man cave at 940.383.9566. We can give you advice on how to build a man cave in the backyard.