The Infinite Possibilities of Multi-function Steel Building Kits
Pre-engineered steel structures make excellent multi-use metal buildings.  Steel buildings lend themselves well to multiple operations today— and for changing uses in the future.
Besides, what could be more cost-effective than one structure serving multiple needs?
Multi-Use Metal Buildings for Investors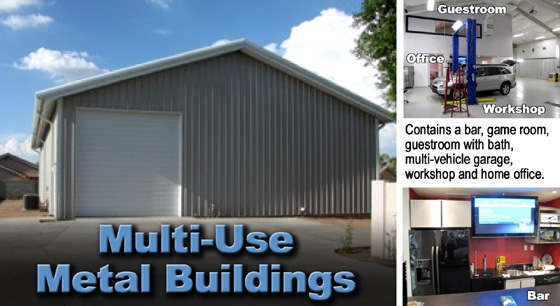 Steel buildings are attractive, economical, long-lasting, and easy-to-maintain structures.  This appeals to bottom line conscious real estate investors.  However, the greatest attribute from an investor's standpoint may be the adaptability of steel buildings.
First, investors find constructing one long, multi-use metal building keeps their rental space more flexible.  Dividing the clear span space into multiple sections permits renters to lease one section or multiple connecting units, as needed.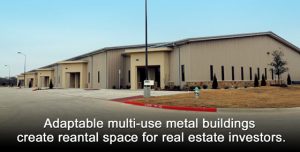 Every renter demands different things from their building space.  Changing renters often requires interior remodeling to meet the specific needs of the incoming business.  Since pre-engineered steel framing is self-supporting, adapting a floor plan to a new occupant is simple.  There is no need to work the space around load-bearing walls.
Commercial Multi-Function Business Buildings
Our commercial multi-use metal buildings for sale can house all types of businesses.
Strip malls, for example, usually attract a wide variety of retailers.  Shoppers may find upscale boutiques, furniture stores, spas, fitness centers, restaurants, clothing stores, theaters, specialty shops, chain stores, and more, all doing business in one convenient location.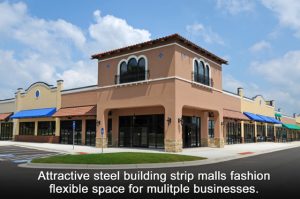 You may also see one steel building housing similar commercial businesses.  For example, multiple medical practices, testing facilities, and pharmacies often choose to congregate in the same area.
Likewise, personal service businesses like accounting firms or dry cleaners often gravitate to multi-space structures.
Commercial business owners should consider future expansion in any building plans, too.  For example, a business might build a structure double the size they need and rent half the space.  As their business expands and the renter's lease expires, the business then expands into the full space. This eliminates the need to construct a commercial metal building again at a new location.
Industrial Steel Multi-Purpose Buildings
Probably no other sector of business appreciates multi-use steel buildings more than industry.  In fact, steel buildings now constitute 95% of all new industrial low-rise construction.
Huge pre-engineered steel buildings divide easily into smaller warehouse and manufacturing spaces for multiple businesses.
Personal Multi-Use Steel Buildings
Multi-use steel buildings capture the imagination of homeowners, too.  One prefabricated steel building easily serves several purposes.  For example, choose to combine the space for two or more of any of the following:
Collectible storage
Entertaining areas
Game/recreation room
Gardening
Hobby huts
Family gym
Home movie theater
Private office
In-law cottage or guest apartment
Storage space
Workshops
Get Started on Your Own Multi-Purpose Building Today
There is simply no end to the applications for adaptable multi-use metal buildings.  Regardless of your needs, a steel-framed RHINO building package fits your requirements perfectly.
Every RHINO steel building kit comes with a letter of certification promising the building will meet or exceed all current loads for the lifetime of the structure!
Call RHINO today to find out more about our steel, multi-use buildings for sale. Our knowledgeable steel building specialists offer free building quotes and no pressure consultations about your structural needs.
The RHINO number is 940.383.9566.