Part 2: Prefab Metal Buildings vs. Weld-up Buildings
Our last blog established that steel buildings are the only safe choice for welding shops. Now let's look at the framing choices.
As an experienced welder, your first instinct is to weld-up your own shop, but is that really the smartest choice?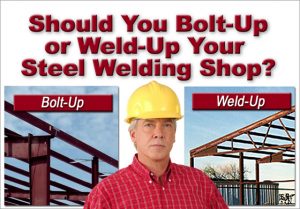 Before you build, compare the pros and cons of weld-up metal buildings and prefabricated steel buildings. You may be surprised at which system is the better value.
Defining "Weld-Up" Metal Buildings
"Weld-up" buildings are completely do-it-yourself structures. Purchasing steel pipe locally, the builder cuts and welds every connection on site. Also known as "field-weld" buildings, you often see weld-up structures as small shade structures or storage sheds on farms.
Defining "Prefab" Steel Buildings
As the name implies, prefab buildings are manufactured structures. Professional fabricators cut, weld, punch, paint, and mark the framing pieces in a quality-controlled factory. Also known as "bolt-up" or "pre-engineered metal buildings" (PEMBs), these commercial-grade structures ship in kit form, ready to assemble.
The Pros and Cons of the Two Systems
Look at the advantages and disadvantages of bolt-up and weld-up buildings:
MATERIAL COSTS: You may find weld-up material more affordable than a prefab metal building for smaller shops. For larger, professional welding shops, the two systems should be closer in price.
MATERIAL QUALITY: The quality and strength of a weld-up building is impossible to quantify. However, in a prefabricated metal building, a structural engineer licensed in that state designs and approves every piece of the commercial-grade framing.
FOUNDATIONS: Without any engineering information, the foundation becomes guesswork for a weld-up building.
Pre-engineered buildings supply the concrete contractor with full information and a detailed anchor bolt plan. The contractor uses this data, along with local soil conditions, to create a foundation you can rely on.
Surprisingly, pre-engineered framing weighs less than weld-up framing, so a PEMB foundation uses less concrete.
PERMITTING: Obtaining permits is often difficult for weld-up buildings. Every weld must be inspected, tested, and approved. Weld-up buildings are actually forbidden in some places.
RHINO Steel Building Systems come with three sets of engineer-stamped plans, making permitting simple. Local inspectors know and trust pre-engineered steel buildings.
CONSTRUCTION TIME: With a field-weld building, construction may begin as soon as materials are purchased and the foundation is finished. Prefab buildings take longer to engineer, fabricate, and ship. However, the time saved by weld-up buildings' quicker beginnings is offset by the faster erection of the less-labor intensive bolt-up building. Pre-engineered steel buildings cut construction time by 33% or more.
Additional Points to Consider
GUARANTY: RHINO's prefab steel buildings are guaranteed to meet or exceed all current local building codes for the lifetime of the structure! You will find no such guarantees with weld-up metal buildings.
INSURANCE: Do-it-yourself weld-up builders may experience difficulty in insuring their structures. Without the assurance supplied by engineering, insurance companies have no way to determine the quality of the structure.
However, many insurance carriers offer substantial premium discounts to commercial-grade pre-engineered steel buildings
EARTHQUAKES: Weld-up buildings perform poorly in earthquake prone areas. Under the stress of a temblor, welded connections may break.
During an earthquake, bolt-up steel buildings rotate slightly at the bolted connections. These "moment connections" allow the framing to absorb the stress. Consequently, bolt-up buildings make a far better choice is seismically active areas.
We Invite You to Test Our Metal
Discover why a RHINO pre-engineered steel building is the smartest choice for your welding or hot workshop. Speak to a RHINO metal building specialist now. Rely on our helpful specialists for expert advice and fast, accurate quotes.
Call RHINO now at 940.383.9566.
You can always depend RHINO for the best steel building at the best possible price!