What Type of Foundation Does Your Metal Building Need?
Many people think steel building foundations are limited to concrete slabs. Not so. While it is true that the majority of metal building owners choose to build on a slab, that is not the only choice available.
Three Main Types of Steel Building Foundations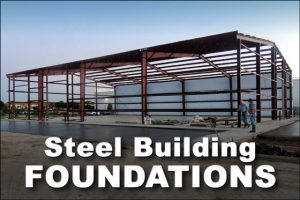 Let's look at the three basic foundations used for steel buildings.
PERIMETER FOOTING: In some agricultural or recreational applications, the floor of the structure is dirt or gravel. For example, outdoor horseback riding arenas, cattle barns, or covered picnic pavilions may choose to build without a floor. A perimeter footing (also called a perimeter wall) is poured on the outside of the structure and the steel columns bolt to the concrete wall.
PIERS: Livestock barns, open-air pavilions, and equestrian arenas can also be built on pier foundations. One concrete pier poured deep in the soil supports each steel column. Below the ground, the piers tie together to prevent the structure's base from shifting.

FLOATING SLABS:

A concrete floating slab (usually just called a "slab") remains the most popular choice for metal building foundations. The slab not only supports the weight of the building, it also creates the floor of the structure. The vast majority of aviation, commercial, and industrial building projects are erected on a concrete slab.
Any of these three methods may be also be used in combination.
Use, location, soil type, structural size, frost lines, building reactions, and weight determine the best type of foundation for each project.
The Complexities of Metal Building Foundations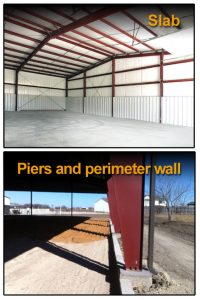 Pre-engineered steel buildings by definition are engineered and designed to meet or exceed the current local building codes. However, the building's foundation must also meet those code requirements. The structure and the foundation must work together to create a strong, durable, damage-resistant structure.
A foundation requires engineering, just as the steel framing does. It needs to adequately support the dead weight of the structure and its contents. The foundation must also continue to securely anchor the structure to the ground and withstand any additional stresses placed on the building, such as by howling storm winds or ground-shaking earthquakes.
RHINO Steel Building Foundations
Although RHINO Steel Building Systems does not supply foundations, we do provide information your concrete engineer needs to ensure your foundation meets local codes and criteria.
Call RHINO Steel Building Systems at 940.383.9566 now for more details about steel building foundations. Our experienced metal building specialists can answer all your questions. They will also offer tips on hiring an experienced concrete contractor for your next building project.
From a small backyard workshop to a gigantic warehouse or manufacturing plant, RHINO offers the best deal in steel buildings!