Pre-engineered Metal Buildings Require Precise Foundation Work
While all building projects benefit from well-laid foundations, hiring a trustworthy concrete contractor is especially important for pre-engineered steel buildings.
Prefabricated metal buildings are designed, engineered, and manufactured to exacting tolerances. These structures go together only one way— the right way.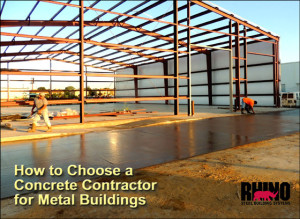 Unlike lumber— which warps, twists, and creeps over time— steel buildings go up straight, square, and plumb and stay that way for decades. Consequently, steel framing requires a straight, square, and plumb foundation made with strong, top-grade mixed concrete. Anchor bolts must be set within a 1/16" tolerance for proper alignment.
Foundation mistakes and improperly located anchor bolts can be a nightmare in metal building construction. Foundation precision is mandatory for steel buildings.
Do Your Homework When Hiring a Concrete Contractor
If you are new to construction, hiring a reliable concrete foundation contractor presents a challenge. However, the result is worth all the diligent effort.
Ask family, friends, and acquaintances to recommend local concrete contractors. Your metal building supplier may also know reputable concrete contractors in your area. Ask local cement companies whom they would recommend for a steel building project.
Start with at least three or four concrete foundation contractors. Investigate each thoroughly.
Check the contractor's ratings with your local Better Business Bureau. Are there any unsettled complaints against the companies?
How long have they been in business? Experience matters— especially with steel framing.
Have they laid foundations for pre-engineered rigid-frame metal buildings before?
Do they have a reputation for quality?
Are they licensed? Call the licensing or certification agency yourself to verify. Work done by contractors without proper credentials may cause building inspection problems later.
Does the company carry both liability and workman's compensation insurance? Ask for copies of documentation showing that the insurance is current.
Ask for references. Get at least three references from each company— preferably for other recent steel building projects. Eliminate any company that refuses to supply references.
Call the references. Ask questions. Were they satisfied with the concrete contractor's work? Did they complete the job on time and on budget? Were there any problems with the job? Would they use the same concrete contractor again?
Visit at least one project site for each contractor on your list. Are the concrete corners square and crisp? Do the foundation walls look straight and even? Do slab floors appear level and smooth?
Ask for detailed quotes. Be as specific as possible about your project. Supply the company with a copy of your anchor bolt plan and building dimensions. Give them copies of the foundation specifications supplied by your concrete engineer.
Foundation work for a steel building is one place where you do NOT want to cut corners. You should value skill and quality over a cheap quote. Radically cut-rate bids may mean the company uses shoddy practices, inferior materials, and unskilled laborers.
Compare the reputation, quality, and pricing of each candidate. By this point, you should have a good feel for the best choice for you.
Choose the best concrete foundation contractor for your project. However, if one concrete contractor still does not stand above the common herd, go with your gut.
More Tips Hiring a Concrete Contractor
Here are a few more tips when hiring a concrete contractor:
Check the contract carefully. It should specify the material to be used. Make sure the price is firm unless you make changes to the project. The contract should cover the payment schedule in detail. A time frame for completion should be included.
Never pay the balance for the work before the job is completed.
Do not purchase the concrete mix directly. If there is any question later about the quality of the concrete used, the contractor cannot shift blame to you for inferior concrete mix.) Make the check payable to the concrete contractor AND the concrete mix company together, to assure the concrete has been paid for. (If you pay the concrete contractor for the concrete mix and he fails to purchase the concrete, you are still responsible for the concrete mix bill.)
For a free metal building quote, call RHINO Building Systems at: 940.383.9566.
Our friendly, experienced steel building specialists can answer all your questions on concrete foundations and prefabricated metal buildings. Call RHINO now for the best deal in steel buildings!