Farmers Were the First to See the Benefits of Steel Buildings
There's a reason so many of today's farmers and ranchers choose to build pre-engineered metal barns: they are smart business people.
Today's agribusiness professionals know a great deal when they see one. RHINO metal barns and ag structures offer the best deal in steel.
The Evolution of the Barn in America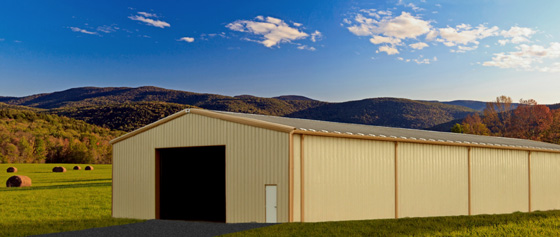 Even from the early days of American farming, the barn has been the heart of farms and ranches. Barns were many times the size of farmhouses 200 years ago. Neighbors judged the prosperity of the farm on the size and condition of the barn, not the farmhouse. The man who did not keep his barn in good shape was considered a poor excuse for a businessman.
Early settler built their barns with whatever materials were at hand. Nearby forest provided timber to build wood barns. In other places, an abundance of rock made stone the material of choice for barn building.
In 1790, farmers made up 90% of America's workforce. Using crude plows and equipment driven by horses, mules, or oxen, farming was backbreaking work.
The invention of the steel plow allowed farmers to cultivate more land. The invention of the tractor and related farm equipment expanded the capabilities of the farmer even more, requiring more space to shelter tractors and other equipment.
Farmers and Ranchers Recognize the Potential of Metal Barns
During the Depression, struggling but innovative farmers constructed pole barns from discarded utility poles and sheet metal.
In World War II, the military desperately needed structures that could be shipped in, erected quickly, and disassembled quickly. Metal arched buildings fit the bill. After the war, farmers-turned-soldiers returned to their rural lives with the idea of metal buildings as barns in their heads.
As engineering and manufacturing techniques evolved and improved, so did the quality and versatility of pre-engineered steel barns and structures for the agricultural market.
Today's farms and ranches are high-tech businesses, using state-of-the-art equipment and modern farming techniques to get the most from the land. In 1850, a farmer could produce 100 bushels of corn on 2-1/2 acres in about 90 man-hours. One hundred and forty years later, the average farmer produced 100 bushels of corn from a mere 1-1/8 acres of land in only two man-hours. That's progress!
Increased efficiency has led to an ever increasing need for larger barns and additional farm structures.
Today's sophisticated computer-aided design and engineering software allow steel building companies to produce metal barns and farm buildings efficiently and economically for agriculture and commercial applications.
Steel Barns for Progressive Agribusiness in the 21 Century
RHINO metal barns and agricultural steel buildings provide the qualities modern farmers and ranchers appreciate:
Quick and Easy to Erect:

Most farmers are by nature self-reliant do-it-yourselfers. They often choose to erect steel barns and farm buildings themselves with a few friends. It's like an old-fashioned neighborhood barn raising.

Roomy and Versatile:

RHINO steel barns are capable of spanning much farther than wood-framed structures, providing maximum usable space. Metal barns with up to 150 feet in uninterrupted space are available with standard pricing. Even larger clear spans of 200 feet or more are possible with a custom quote.

Damage Resistant:

RHINO steel building include built-in resistance to damage from high winds, lightning, fire, mold, termites, heavy snows, and earthquakes. Waterproofing features included in the RHINO package assure a leak-resistant barn or ag building.

The Bottom Line:

RHINO steel barns are economical to build and economical to operate. Durable metal buildings require little maintenance, while retaining their strength and beauty decades longer than other types of structures. Because steel is a fire-resistant, commercial-grade building material, most farmers and ranchers receive big discounts on insurance, too.
Call RHINO now. Our steel building experts can answer all your questions and give you quotes on a metal barn or other building for your agribusiness. Call RHINO now at 940.383.9566.