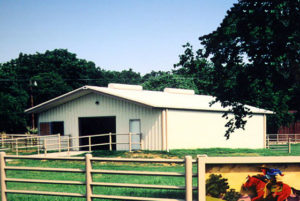 RHINO prefabricated metal barns promise factory-precise components for quick and easy on-site construction.
All the primary framing pieces are cut, welded, and drilled for fast bolt-together assembly. The remaining framing components and roof and wall panels attach with self-drilling screws.
Many do-it-yourselfers assemble and erect the framing themselves with the help of a few friends, just like an old-fashioned barn raising.
RHINO Steel Barn Kits
RHINO prefab steel barn kits and agricultural buildings work well for many farming and ranching applications, including:
Heavy equipment and commodity storage
Horse stables
Grain storage
Workshops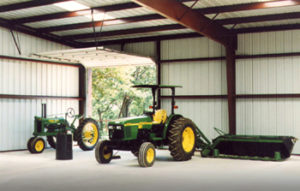 Our prefab metal barns protect your livestock and equipment assets from the elements.  They also provide decades of trouble-free, watertight service.
RHINO prefab metal barns are:
Fire resistant
Lightning resistant
Strong
Durable
Termite resistant
Practically maintenance free
RHINO framing is guaranteed to meet or exceed all current local building codes and loads for the life of the structure.
Options for Metal Barns and Buildings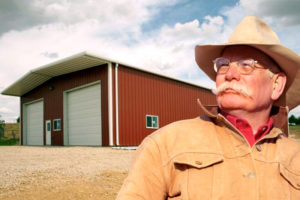 RHINO steel barn kits offer a variety of door and window options, including large overhead doors to accommodate heavy duty farming equipment. Choose from an assortment of natural lighting options including high-strength sidewall lighting and skylights.
Most people select our durable and attractive steel panels and trim to finish the exterior of their steel-framed barns.  However, stone, brick, stucco, wood, or other finishing materials can be added to achieve a variety of exterior styles.
With so many standard selections and extras available from RHINO, it is easy to customize your steel barn to fit your unique needs. See our Options Page for more details.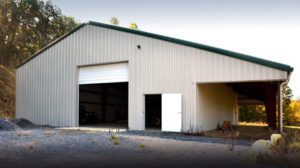 Modify your metal barn kit with your choice of three standard liner panels and partitions styles, available in a variety of attractive colors. You may want to adapt your barn with partitions for horse stables or dairy cow stalls, a separate tack and equipment room, or even an office area.
In addition, optional insulation packages provide years of energy-efficient, climate-controlled comfort.
Clear Span Steel Barns and Buildings
RHINO steel barn kits promise space and lots of it. The clearspan capabilities of our steel modular barn kits make them ideal for all farming and ranching structures.
Standard RHINO buildings can span up to 150' without any confining interior columns. Custom quotes can provide building spans of 200' or more.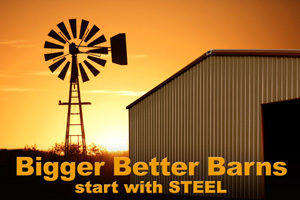 Prefab metal barns reach up to 40' high on a standard package.  Even taller structures are possible with a custom quote.
Prefab Steel Barns Beat Wood Pole Barns
The affordable RHINO steel building system provides distinct advantages over pole barn construction.
Speak to a friendly RHINO steel framing specialist today. Let their experience guide you in selecting the perfect building package for your prefab barn kits or rural storage structures.
Call RHINO today at 940.383.9566 to learn more about our prefabricated steel barn kits.