RHINO STEEL Ag BUILDINGS FOR TODAY'S FARMS AND RANCHES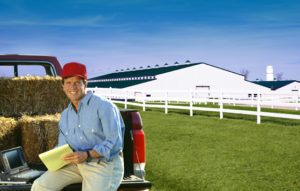 The RHINO name promises strength, permanence, and top-grade materials for your agricultural steel buildings.
Regardless of the size or specific application you require, RHINO can supply steel ag buildings and storage structures to fit your requirements exactly.
RHINO-Tough Steel Buildings
All RHINO metal farm buildings are built strong to last long.
Our steel buildings provide excellent protection from high winds, lightning, fire, mold, heavy snow, earthquakes, termites, and aging.
Why Your Ag Building Should be a RHINO Steel Building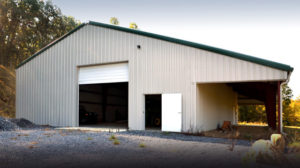 Farmers and ranchers love the advantages RHINO steel farm buildings supply, including:
ECONOMICAL COST:  RHINO buildings provide top-quality materials at a surprisingly affordable price.
GREAT INSULATION:  If needed, you may insulate your RHINO metal farm buildings for year-round energy-efficient comfort.
Our Pro-Value Insulation Package cuts climate-controlled metal agricultural buildings' energy bills by as much as 50%.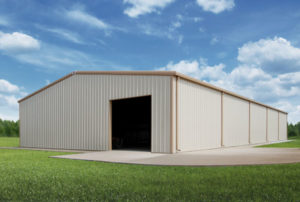 SIMPLE ASSEMBLY:  RHINO's prefabricated agricultural buildings arrive at your farm or ranch ready for assembly with simple bolt-together construction.
Construction for our metal barns, steel sheds, and other agricultural steel buildings is much like an adult-sized version of a kid's erector set.
In fact, many farmers and ranchers erect their own steel farm buildings with a few friends, like an old-fashioned barn raising.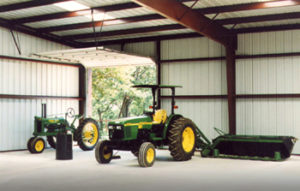 CLEAR SPAN CONVENIENCE: Agricultural sheds and structures need lots of open, unobstructed area. RHINO farm buildings deliver space, with up to 300'-wide clear span structures.
Our wall heights range from 10' to 40'.  (Even higher wall heights are possible with a custom quote).
QUICK DELIVERY:  Your RHINO building typically delivers in six to seven weeks from placement of your order.  However, some standard models may deliver in as little as 4 weeks.
GUARANTEED:  RHINO's framing is guaranteed to meet or exceed all current local building codes and loads for the lifetime of the structure!
RHINO Metal Farm Buildings Offer You More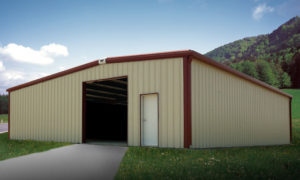 Our building kits contain additional perks as part of the standard package.  These bonus benefits include:
Extended-life cast zinc aluminum self-drilling screws with washers
Overlapping purlins for added strength
Ultra-strong steel PBR (Purlin Bearing Rib) panels for roof and metal building panels, as well as door and wall frame trim
Additional waterproofing features like die-formed ridge caps, foam rubber closure strips, and formed base trim for the steel panels
Clips welded to the frames for easier attachment of girts and purlins
Long Term Benefits of RHINO Agricultural Steel Buildings
RHINO metal barns, farm sheds, and other ag buildings are easy to remodel and expand later. You simply order more frames to add to either end wall, increasing space as you need it.
In addition, our durable, sturdy, attractive agricultural metal buildings are practically maintenance-free.
As the most recycled material in the world, steel is also the greenest way to build. With its high-recycled content, RHINO's high-tensile commercial-grade steel framing is a great choice for eco-friendly metal farm buildings.
Customize Your RHINO Farm Buildings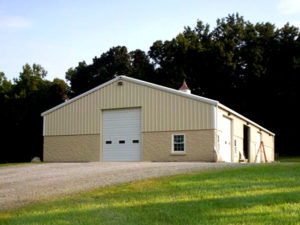 Choose from multiple interior and exterior finishes or attractive steel panel colors to make your metal barns and ag buildings exactly right for you.
Options available from RHINO include:
Cool-coated exterior panels
Gutters and downspouts
Insulation packages
Liner panels and partitions
Mezzanine floor systems
Overhead doors
Personnel doors
Skylights and wall lights
Standing seam roof panels
Ventilation options
Trust RHINO for Your Every Ag Building Need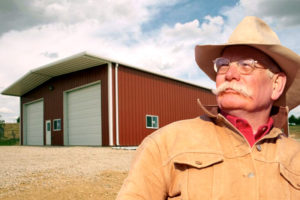 Rely on RHINO to fabricate the right building to suit your agricultural building needs perfectly.
We supply all sorts of agricultural steel buildings, including:
Commodities storage
Offices offices
Equipment storage buildings
Farm sheds and loafing sheds
Hangars for crop dusting planes or helicopters
Machine shops
Metal barns, dairy barns, and cattle barns
Multi-purpose buildings
Shade shelters
Stables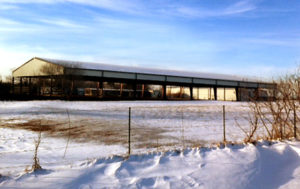 RHINO is a name you can trust for agribusiness buildings that provide decades of problem-free service.
Our staff of experienced metal building technicians will answer any questions and assist you in selecting your agricultural steel buildings.
Call RHINO today at 940.383.9566 to discuss your upcoming farm building projects and learn more about our steel farm buildings for sale.