All Steel Building Systems are NOT Created Equal
The best metal buildings are made with high quality, pre-engineered, commercial-grade steel, like RHINO steel buildings.
In addition, RHINO metal buildings include built-in features that add value and convenience to your building project.
Why Are So Many Builders Choosing Steel Building Systems?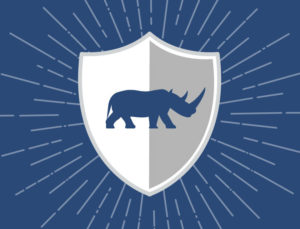 Prefabricated steel buildings offer so many advantages over more traditional construction methods.
Pre-engineered steel buildings are the strongest, lightest, fastest, safest, and smartest way to build.
ECONOMICAL:  Efficient designing, engineering, production, and distribution make steel buildings affordable.
Your RHINO metal building kit arrives ready to assemble.
Consequently, do-it-yourselfers often choose RHINO's prefab metal buildings for their simplicity.
STRONG:  In addition, steel has the strongest strength-to-weight ratio of any construction material.  Therefore, you can build a much stronger structure and use far less material with steel.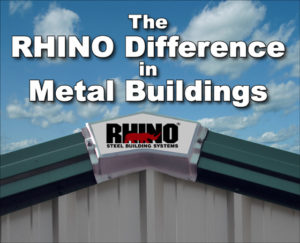 FAST:  Pre-engineering metal buildings dramatically streamlines construction.
Fewer framing pieces mean speedier construction, less chance of weather delays— and money saved on your construction time.
All designing, cutting, welding, and drilling is done at the factory. Every RHINO building arrives clearly marked and ready to erect, making it one of the best metal building kits around.
EFFICIENT:  The deeper wall cavities of steel buildings leave room for thicker insulation.
Climate-controlled steel buildings with RHINO's Pro-Value insulation typically save 50% on utilities.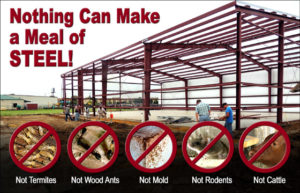 SAFER:  A steel structure provides built-in protection from winds, snows, fire, lightning, mold, rot, termites, earthquakes, and aging.
In fact, most insurance companies offer discounted rates for fire-resistant metal buildings.
ENDURING:  Steel buildings last longer, require little maintenance, and adapt to various uses easily.
RHINO's steel building systems are also simple to expand and renovate.
Why Do the Best Metal Buildings Come from RHINO?
RHINO provides exceptional buildings with built-in features buyers love.
Every RHINO structure is approved and stamped by an engineer licensed for the state or province where that building is constructed.
At RHINO, we not only believe in delivering quality steel buildings, but also in delivering first-class service.  We build relationships with our buyers on the strength of our product— and our service.
In fact, in the past 12 months, 30% of RHINO sales came from repeat customers or others referred by RHINO clients.
"RHINO is wonderful to work with.  They always follow through with what they say they will do.  Once I started using RHINO, I stayed with them."   — Lee Ramsey
"Good customer service is hard to come by these days and when you find it, it is worth letting the company and others know that you very much appreciate it… All-in-all, not certain how it could have been a better transaction so RHINO is tops in my book."      —  Larry Steinmetz
"Excellent service with help in designing the building, placing the order and shipping to my site. The building went together very easily and all parts were included in the pre-engineered structure.  Good experience working with RHINO building."      —  Wayne Hawk
"Fantastic all-around experience.  Great customer service.  Highest quality metal building.  Very satisfied."     —  Mike Santos
"The RHINO customer service support was excellent.  I am very pleased with the whole experience and with the building itself. I'll definitely use Rhino again for any other building projects."     —  Rick Moore
RHINO Stands Out from the Common Herd of Steel Building Companies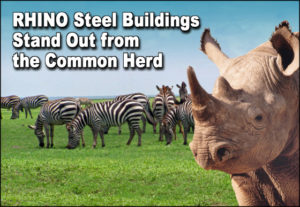 While other metal building companies offer a 25-year or 30-year guarantee, RHINO buildings are guaranteed to meet or exceed all current local building codes for the LIFETIME of the structure. 
RHINO buildings include 26-gauge steel panels as standard.  However, other steel building companies may supply cheap R- style steel panels, with a small overlap.  RHINO supplies stronger PBR steel panels with more overlap as standard.
RHINO includes value-added features like these in their standard package, at no additional cost to the buyer:
Die-formed ridge caps
Closure strips
Welded clips
Formed base trim
Cover trim
Many other companies offer these items only as costly options— if they offer them at all.  That's The RHINO Difference in steel building systems.
Conclusion
Other steel building companies do not match the quality steel buildings and the above-and-beyond service provided by RHINO metal buildings.
Remember: The Best Metal Buildings are RHINO Metal Buildings
At this very moment, RHINO buildings are going up all over North America.  Shouldn't yours be one of them?
For a fast and accurate metal building quote, please call RHINO now at 940.383.9566.
(Updated 5-19-2021.  Originally published 5-2-2014.)