The High-Strength Fasteners of Steel Prefab Buildings
An integral part of metal prefab buildings rests on the strength and quality of the bolts, nuts, and screws connecting them. Every building is only as strong as its connections.
Nails vs. the Screws of Metal Building Construction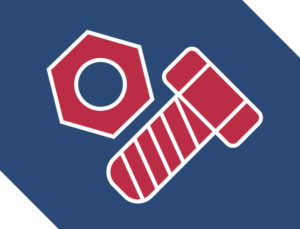 First, let's dispense with the controversy over whether nails or screws are strongest.
Wood builders contend that nails hold better than screws.
If you believe that, drive both a nail and a screw halfway into a board. Now try to pull them out of the board with pliers. It is no contest. The screw wins every time, because screws have more tensile strength than nails.
Now imagine that same screw embedded not in a wood stud—which chips and splinters—but in a solid steel column. Once that screw is in place, it is there to stay— unless you purposely unscrew it.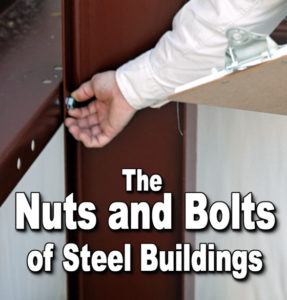 Lumber holds moisture. As the humidity fluctuates, wood studs expand and contract. These changes in moisture content cause wood framing to shrink, warp, crack, twist, and sag over time. The constant movement of wood framing forces nails and staples to work out, loosening the frame.
Because they are unaffected by humidity changes, RHINO's bolt-together metal buildings go up straight and stay plumb for the lifetime of the structure. Steel building fasteners stay put.
Foundation Bolts and Nuts of RHINO Metal Prefab Buildings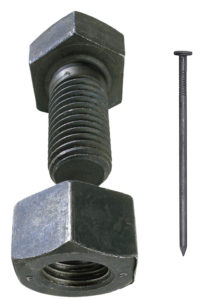 Pre-engineered steel columns attach to concrete perimeter walls, piers, or slabs with high-strength steel j-bolts and nuts, called anchor bolts.
RHINO Steel Building Systems provides an anchor bolt plan for your concrete contractor, indicating exact numbers and precise placement for your foundation bolts. Anchor bolts must be set within a 1/16" tolerance for accurate alignment.
The contractor purchases the appropriate bolts locally, as specified on the plans. Positioning the bolts in the foundation with templates ensures the proper anchor bolt location before pouring the concrete.
The steel framing columns arrive at the site pre-drilled and ready to mount over the j-bolts embedded in the concrete. Heavy-duty steel nuts screw tightly to the j-bolts, completing the connections.
High-strength bolts ship with the steel framing to connect the steel rafters and columns. Metal fasteners provided by the manufacturer securely attach the secondary steel framing to the roofing and exterior walls.
RHINO's Rust-Resistant Exterior Metal Building Screws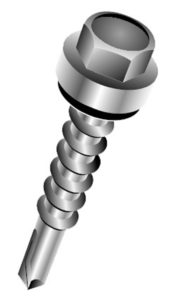 The finishing screws used to fasten the steel exterior cladding and roofing seem like a small detail in metal building construction. However, the quality of these exterior screws is crucial.
Inferior screws rust, discoloring the panels and spreading corrosion. Cheaply made screws with cut-rate washers lead to leaking problems.
RHINO supplies only weather-resistant cast zinc-head aluminum metal building screws for metal building construction packages. These die-cast screws deliver high torsion strength. The self-drilling tip provides fast and easy installation.
Made to match the color of the steel panels, RHINO sheathing screws present a more professional and pleasing appearance for a steel building. In addition, these fasteners come with a lifetime warranty against corrosion on the zinc head.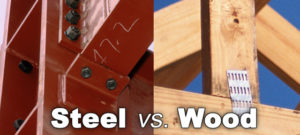 As an added bonus, the sealing washers on RHINO's metal building screws seal our steel prefab buildings from heat, cold, and moisture.
In fact, our EPDM synthetic washers stand up to extreme heat and UV-ray deterioration better than other washers do.
Conclusion
RHINO provides first-class steel prefab buildings— right down to the nuts, bolts, and screws.
Building It Right and Tight with RHINO Bolt-Together Metal Buildings
In the past twelve months, repeat customers (and their referrals) generated 30% of RHINO's sales. We believe that says a lot about our products and our level of service. We promise first-class service— before, during, and after the steel building sale.
Let us demonstrate The RHINO Difference to you. Call 940.383.9566 now for your next building project quote.
Join the herd of satisfied clients hooked on RHINO metal prefab buildings! You will be glad you did!
(Updated 2-3-2021. Originally published 3-10-2017.)