Mistakes to Avoid When Building Your Own Steel Buildings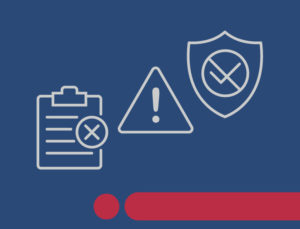 Many do-it-yourselfers find it fun to build their own DIY metal buildings. After all, RHINO's steel framing pieces arrive marked and ready to assemble.
Erecting RHINO DIY steel building kits is like building a giant version of a kid's erector set.  Detailed erection instructions and a DVD accompany the building.  What could be simpler?
Erecting your own metal building saves money, too. Moreover, it is just plain fun for a skilled do-it-yourselfer— if you avoid a few common blunders.
Get Prior Approval for Your DIY Metal Buildings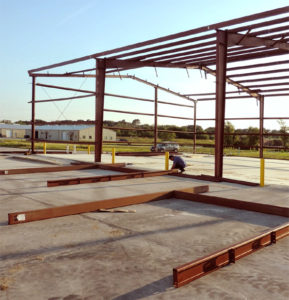 Discovering your completed structure violates local regulations, zoning, or easements can cost you a bundle in fines.  In fact, local authorities might even force you to take down your new structure!
Therefore, never erect a structure before obtaining a building permit.
In fact, you will need to know all your current local building codes before ordering your RHINO steel building.
You will also need to know— and clearly mark— the location of any buried utilities.
Contact your local building department before ordering any DIY steel building kits.  They can give you complete information on what you will need to comply with your local codes.
RHINO's engineered stamped plans and Letter of Certification should smooth the permitting process with your building department.
Adequate Site Preparation for DIY Buildings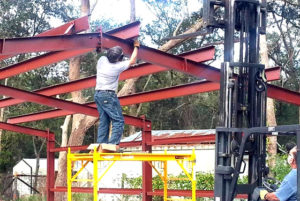 All structures, including DIY steel buildings, need solid, level ground.  A well-graded site ensures a problem-free building foundation.
Larger structures may require soil tests to determine the stability of the ground.
In addition, be sure to allow sufficient clearance around the foundation for delivery trucks and lift equipment.
Do Not Pour the Foundation Too Soon!
It is horrifying to receive a call from someone who has happily poured a concrete slab— and now wants a metal building to fit the foundation!  That is really putting the cart before the horse.
DIY metal building kits require excellent concrete contractors.  Foundations must exactly fit the structure.
Moreover, you must insert the bolts anchoring the framing to the foundation in precise locations before pouring the slab.
Following Instructions and Safety Measures for DIY Steel Building Kits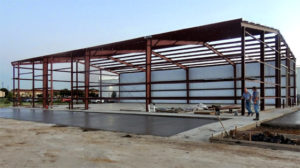 Enthusiastic do-it-yourselfers sometimes jump into a project too quickly.  They are confident in their ability to "figure it out" as they go.
However, mistakes caused by lack of care and planning can be dangerous when erecting DIY steel buildings.
Read the RHINO erection manual thoroughly.  Follow its systematic instructions exactly.  Give particular attention to the directions for bracing the framing of DIY metal buildings.
Also, pay close attention to all the safety procedures in the manual.
Be sure everyone on the job site wears hardhats and the recommended safety gear.
Strictly adhering to the manual's instructions protects both the building and the builders.
Altering DIY Steel Buildings in the Field
Do-it-yourselfers that are more familiar with traditional construction may be tempted to alter the steel framing pieces in the field.  Resist the urge! 
DIY metal building kits are precisely designed, engineered, and fabricated to meet specific loads.
If something does not seem to fit as it should, refer again to the erection manual and plans.  If retracing your steps does not solve the problem, contact the building supplier.
Never cut, weld, or tamper with the steel framing of DIY buildings!
Installing Screws Correctly on DIY Metal Building Kits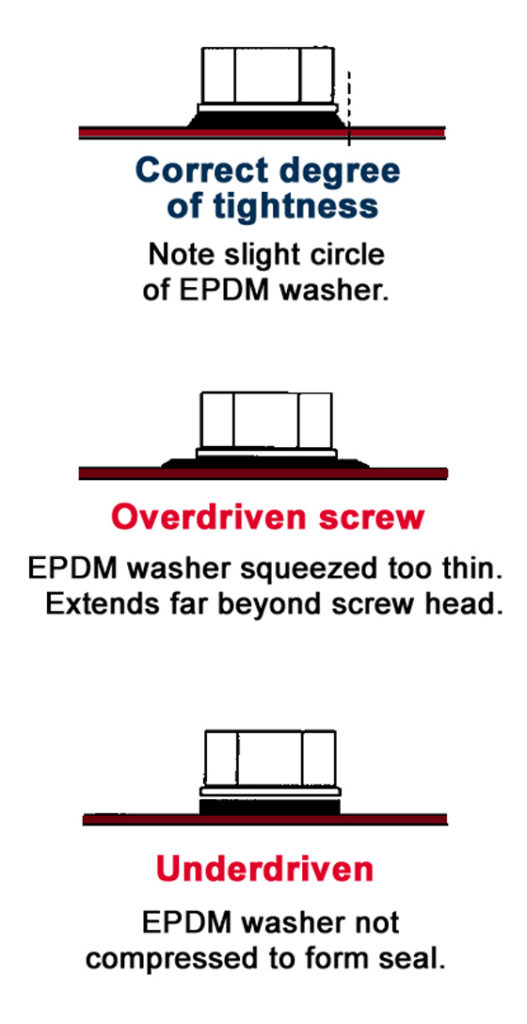 Fastener installation errors might be one of the most overlooked steel building kit mistakes.
Correctly installed, high-grade metal building screws provide a watertight, problem-free structure.  However, over tightened or under tightened fasteners lead to messy, annoying leaks.
RHINO metal building screws include long-lasting washers to prevent leaks.  Ideally, the screw should be driven until the washer extends just beyond the screw head.
In under-driven screws, the washer edges remain completely beneath the screw head.  Over-driving the screw squishes the washer too flat.
Conclusion: You Can Do It!
Building your own prefabricated metal building is simple— if you carefully follow the instructions.  Just avoid these common steel building mistakes and enjoy the rewards of your labors!
Enjoy the Bragging Rights of Building Your Own Metal Building
RHINO's experienced metal building specialists will help you all along the way.
In addition, your DIY steel building is guaranteed to meet or exceed all your current local building codes— for the lifetime of your structure!
Learn more about The RHINO Difference in metal buildings.  Call us today at 940.383.9566 for more information and a free estimate.
(Updated 3-3-2021.  Originally published 10-24-2018.)