Steel Building Skylights Let You Cash In on Nature's Free Lighting
Installing metal building skylights not only stretches natural resources, it stretches your resources. Including skylights with your steel building order gives you the satisfaction of making the "green" building choice. It also saves your nice green money by reducing utility costs.
What Are the Benefits of Using Skylights?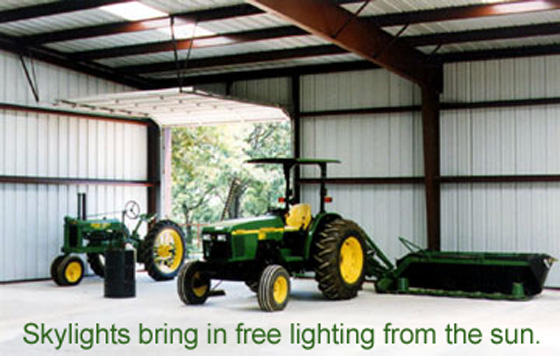 Obviously, reducing the amount you pay for lighting a building is the greatest advantage of skylights and wall lights. Skylights, also known as light transmitting panels or LTPs, may reduce lighting costs as much as 80%. However, there are other reasons to choose LTPs.
In greenhouses and sun rooms, plants thrive in the diffused light of quality-made light transmitting panels. RHINO metal building skylights and wall lights let in generous amounts of plant-sustaining light, while avoiding strong, direct sunlight which can wilt and burn tender plants.
Studies have shown natural lighting improves productivity and efficiency in commercial and industrial enterprises. Employees report feeling more satisfied with their jobs. Absenteeism drops.
Metal building skylights increase the value of the structure, making your property more desirable to buyers.
What Type of Buildings Use Skylights?
Generally, steel building skylights and wall lights work best in structures without air conditioning and heating.
For example, farm buildings are seldom climate controlled. Skylights in steel agricultural buildings like barns light the interior all day, without using a single kilowatt of electrical power for illumination.
Yet light transmitting panels are not the right choice for every structure.
Unless located in an extremely mild climate, environmentally-friendly builders will find steel building skylights and wall lights counter-efficient in saving energy. In most climates, a well-insulated climate-controlled building uses energy more efficiently without skylights and wall lights.
Metal building skylights and wall lights often grace structures that include:
• Auto repair shops
• Barns
• Covered horseback riding arenas
• Covered outdoor pavilions
• Covered patios
• Covered walkways for restaurants or commercial buildings
• Factories and manufacturing plants
• Farm equipment buildings
• Firehouses
• Greenhouses
• Hay sheds
• Pool enclosures
• Porte cocheres for entries of commercial buildings like hotels
• Sheds
• Shelters for aircraft or large equipment
• Stables
• Sun rooms
• Warehouses
• Workshops
Does RHINO Offer Metal Building Skylights and Wall Lights?
Yes, we do. RHINO customers may order both skylights and wall lights with their steel building order.
RHINO's steel building skylights and wall lights are manufactured of 100% acrylic sheets, reinforced with long-strand fiberglass. A hardy gel coats both sides of every panel. Designed to produce diffused natural light— rather than using harsh direct sunlight— these heavy duty, opaque light transmitting panels meet or exceed all industry standards.
Our high-quality LTPs resist damage from:
• Alkalis
• Breaking
• Common solvents
• Cracking
• Fiber bloom
• Impacts
• Mild acids
• Mildew
• Rust
• Scratching
• Splintering
• Stains
• Yellowing
Steel building skylights and wall lights purchased from RHINO include a 10-year limited warranty.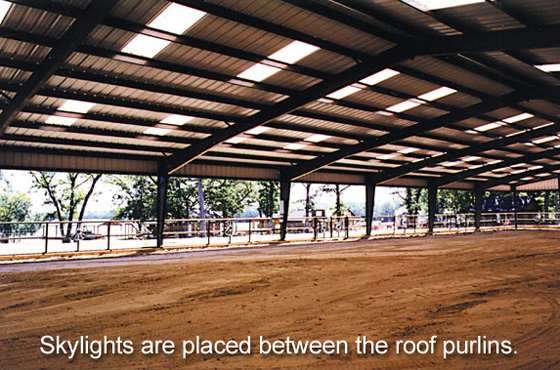 RHINO's skylights match the shape of the steel roofing panels exactly. Skylights attach directly to the steel roof purlins. Installation is quick and simple. RHINO includes mastic tape for waterproof sealing of light transmitting panels. No special tools are required.
Maintenance is also simple: clean as needed with water spray.
Our skylights are available in either insulated or non-insulated styles. Insulated skylights include an extra airspace. Typically, 3' x 10' skylights are placed about every 20'-25'. Wall lights come in 3'-5' lengths, but other sizes are also available.
NOTE: NEVER join two skylights together. (However, wall lights may be connected, if desired.) NEVER stand on a skylight. Although extremely strong, damages or accidents are possible when stand on a skylight.
Light Up Your Life with RHINO Steel Building Skylights
Contact RHINO now for details on metal building skylights, wall lights, or with any other questions. RHINO's steel building specialists will happily answer any questions you may have about our steel building products or accessories.
Call now: 940.383.9566.