Heavy Duty Buildings for Industry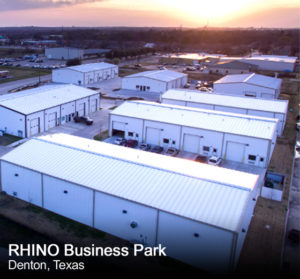 RHINO prefabricated steel industrial buildings provide nearly limitless applications, including:
Equipment storage
Online fulfillment centers
Industrial parks
Meat packing plants
Processing plants
Recycling centers
Truck terminals
You can customize RHINO rigid-frame metal industrial buildings to fit any requirements for your particular industry.
RHINO Steel Structures for Industry Assemble Quickly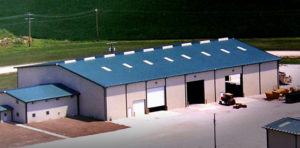 Prefab steel framing components provide a much faster building construction cycle.
Why is RHINO building construction so much faster than conventional building?
Because all the RHINO steel framing members are cut, welded, drilled, painted, and marked at the factory. Our steel structures for industry arrive ready to bolt together.
In addition, RHINO steel structures for industry deliver in six to seven weeks from order placement. In fact, some standard models arrive in as little as four weeks!
Affordable Metal Industrial Buildings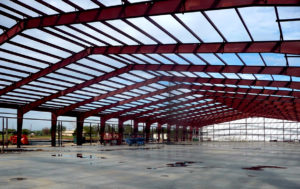 RHINO steel industrial buildings are more cost effective than other building methods.
Our industrial metal buildings are fabricated to exacting standards.
Furthermore, RHINO industrial warehouse buildings and other industrial structures include many standard features only offered as options by other companies. For example, RHINO buildings include many superior waterproofing features at no additional cost.
Durable Structures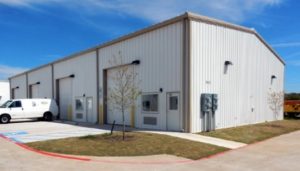 We design our steel industrial buildings to stand strong and last long. They retain their strength and value decade after decade.
Our industrial buildings are both functional and attractive.
RHINO's durable, low-maintenance PBR (purlin bearing rib) steel panel exteriors come in an array of color choices. If desired, you can also finish our structures with brick, stone, stucco, glass, or tilt-up concrete exteriors.
Clear Span Interiors
The rigid steel framing of a RHINO building is so strong it can span extreme distances without needing interior support columns. That allows RHINO building owners far greater flexibility and maneuverability.
Typically, RHINO structures fall within these parameters:
To make the most of your space, choose higher structures and add optional steel mezzanine floors to create second floor space.
An Array of Options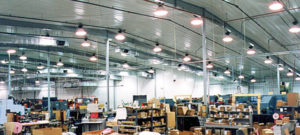 RHINO offers many choices for industrial structures.
For example, we design extra loads for sprinkler systems, ceiling cranes, or any other specialized industrial requirements.
Also, see our Metal Building Options page for other options available for industrial buildings, including skylights and overhead doors.
Don't miss the money-saving, energy-efficient insulation options available from RHINO. Cut heating and cooling costs in half with our Pro-Value Insulation Package.
Call Today for a Free Quote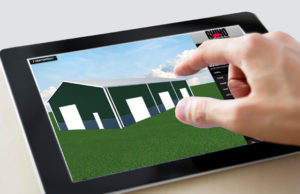 The RHINO team is ready to assist you with steel structures for industry, as well as any other types of buildings.
Phone 940.383.9566 for a free RHINO consultation on your upcoming industrial building project.
Be sure to try our free Online 3-D Design Tool to visualize your building.