Today's Energy-Efficient Metal Buildings for the Energy Industry
Oil and gas buildings need to be efficient, economical, and expandable. No other construction method meets the energy industry's criteria as well as pre-engineered steel buildings.
The Efficiency of Pre-engineered Steel Buildings
The energy industry moves fast. Getting operations up and running quickly is essential. Delays waste money.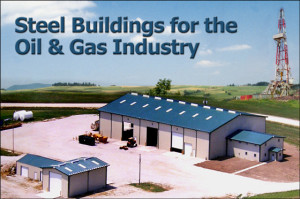 Technological advances in steel production, engineering software, and framing fabrication, make today's steel buildings the most efficient construction system ever devised. Every steel structure promises strength, durability, and lasting value.
Pre-engineered steel buildings systems are designed quickly, fabricated efficiently, and then shipped directly to the site for rapid erection.
Steel boasts the highest strength-to-weight ratio of any construction material. With steel framing, you can do much more with much less material. Fewer pieces mean faster construction.
RHINO steel buildings arrive ready to assemble. Every component is clearly marked for identification.
A clear, concise erection manual and construction DVD guides the builder systematically through the assembly process.
The quick-and-easy, bolt-together assembly reduces construction time and costs. RHINO steel buildings save 33% or more on construction time. Because of the simplicity of the system, many energy companies elect to have their own crews erect the structure.
No other building system delivers the flexibility of steel buildings, either.
Steel framing spans farther, reaches higher, and stretches longer than other building methods. The possibilities with RHINO structures defy the imagination:
WIDTHS: 10' to 200' or more of unobstructed space with a clear span design; up to 480' wide possible with minimal interior columns
HEIGHTS: 8' to 40' on a standard quote; even greater heights possible on custom quotes
LENGTHS: Limitless
Extreme climates often present challenges for oil and gas buildings. RHINO structures meet or exceed all local building codes for wind, snow, salt-air, and earthquakes. RHINO structures provide additional resistance to fire, lightning, rust, mold, and termites, too.
The Resource Efficiency of Steel Buildings
Environmentally friendly and green, pre-engineered metal buildings save natural resources:
Steel is the most recycled material in the world.
Durable steel buildings last decades longer than other structures, reducing the carbon footprint.
When the metal structure outlives its usefulness, the framing is 100% recyclable.
RHINO's high-grade insulation packages slash energy bills as much as 50%.
High-grade insulation drastically reduces the outside noise of energy operations.
RHINO buildings ship from the nearest of multiple factories, saving energy and shipping costs.
Metal building foundations require less concrete than other business methods.
The Economy of Metal Buildings
The energy industry, like any other profitable business, watches the bottom line. Oil and gas buildings, mining buildings, and other energy industry structures need to be both durable and affordable.
RHINO delivers the strongest structure possible, at a surprisingly affordable price.
The Expandability of Steel Buildings
Protecting the bottom line also requires keeping an eye on the future. In construction projects, that means weighing your maximum needs today against possible future structural needs.
Pre-engineered steel buildings allow for easy, economical expansion. Adding more frames at either endwall is the most practical and cost-effective solution. Smaller steel structures added to the sides of an existing steel building create more space for offices or storage.
RHINO Steel Buildings: Efficient, Economical, Expandable
RHINO's system meets the needs for all sorts of oil and gas buildings, mining buildings, and other energy-related industry structures, including:
• Administrative offices
• Biochemical plants
• Buildings with observation mezzanines
• Cafeterias
• Crew quarters
• Energy generation plants
• Ethanol production facilities
• Fabrication buildings
• Field operations structures
• First-aid stations
• Fuel distribution buildings
• Generator and pump housing
• Heavy equipment storage
• In-plant offices
• Laundries and showers
• Locker rooms
• Maintenance facilities
• Mining operation structures
• Office headquarters
• Oil and gas processing facilities
• Oil and gas operation suppliers
• On-site warehouses
• Overhead crane buildings
• Parts and supplies storage
• Recreational facilities
• Remote warehouses
• Training facilities
• Wind turbine factory
Call now and speak to a friendly, knowledgeable, RHINO steel building specialist. They will be happy to discuss and quote energy industry structures— or any other commercial, industrial, aviation, or personal project you have in mind.