Why Steel Frames 95% of all Industrial Buildings in the U.S.
Steel prefab buildings adapt to all types of applications, including industrial construction.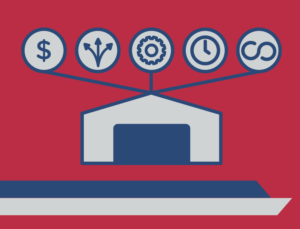 From home workshops to massive steel warehouses, pre-engineered steel buildings are the stronger, safer, smarter way to build.  Consequently, prefab steel building sales continue to climb.
In fact, Reports and Data predicts the annual U.S. pre-engineered metal building market will soar to $29.7 billion by 2026.
Versatility and price make prefab steel buildings great for all types of personal and commercial structures.  However, prefab buildings work particularly well for industrial building.
Here are five reasons steel buildings rock in the industrial market:
1. Steel Prefab Buildings Cost Less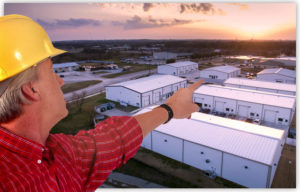 Many types of industrial construction projects tend to be huge.  No other building material does big better than pre-engineered steel.  In fact, the larger the structure, the more attractive steel's cost-per-square-foot.
In addition, steel industrial buildings reduce long-term costs, too.
Metal buildings require very little maintenance.
Moreover, steel's noncombustible nature earns big discounts on insurance.
With the addition of high-quality insulation, industrial structures also slash heating and cooling costs.
2. A Very Adaptable Building System
Industrial operations need lots of room to maneuver.  Only pre-engineered steel buildings supply the unhindered space that industrial businesses demand.
In fact, RHINO's steel buildings deliver clear span structures as wide as 300 feet.  With minimal interior columns, RHINO structures reach 480 feet in width.
Clear spans also simplify layout modifications.  Therefore, floor plan flexibility—so important in warehousing, manufacturing, and other industries—comes easily with steel.
Eave heights stretch to 40 feet on standard orders.  With a custom order, eave heights may soar even higher.
In addition, there are no length limitations for metal industrial buildings.
Steel's strength also allows the extra-wide framed openings that are so necessary for steel warehouses, manufacturing plants, airplane hangars, and other industries.
Equally important, steel's incredible strength also allows for the overhead cranes so often used in industry.
3. Customizes Easily
Customizing a RHINO steel industrial building is simple.
Generally, industrial buildings use basic steel panel cladding.  However, steel building exteriors can also incorporate glass, brick, stone, stucco, tilt-up concrete, fiber cement board, or any other typical finishing product.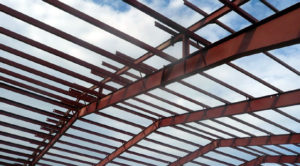 Other RHINO building options include:
Door canopy kits
Energy-saving reflective cool roofing panels
Insulation packages
Mezzanine floor systems
Personnel, hydraulic, and overhead doors
Skylights and wall lights
Standing seam metal roofing
Steel interior liner wall panels
Vents
4. Metal Prefab Buildings Erect Quickly
Steel's strength means fewer framing pieces can create a much stronger structure.
Plus, a RHINO steel industrial building arrives prefabricated and ready to assemble. Therefore, a RHINO metal industrial building erects in 33% less time than other types of buildings.
In addition, the pre-engineering of steel industrial buildings also takes the hassle out of building inspections.
To begin with, RHINO buildings include a Letter of Certification and engineer stamped prints stating that the framing will meet or exceed all current local codes for the lifetime of the building!
 Equally important, building inspectors are familiar with pre-engineered steel structures. As a result, they already trust the engineering.  That speeds up approval.
5. Durability of Steel Warehouses and Manufacturing Plants
Not surprisingly, quality made metal buildings outlast all other types of structures.  They also hold their value longer.
Steel industrial buildings stay straight and true decade after decade.
And, as the most recycled material in the world, steel even meets green building criteria.
Conclusion
Today, steel totally dominates industrial construction.  That's because only metal prefab buildings deliver the strength, price, and features that industry demands.
RHINO's Steel Prefab Buildings for Industrial Construction
Whether you are planning massive manufacturing facilities, mid-sized steel warehouses, or other industrial projects, RHINO invites you to test our metal.
Call RHINO today at 940.383.9566.  Ask for a free quote and full details on all the benefits of RHINO-tough steel industrial structures.
Also, you may design your own building online at RHINO.
(Updated 12-11-2019.  Originally published 7-27-2018.)