Why Steel Buildings Dominate the Industrial Building Market
In earlier blogs, we enumerated fourteen reasons for choosing industrial metal buildings. Our last blog discussed the green building benefits of steel industrial buildings.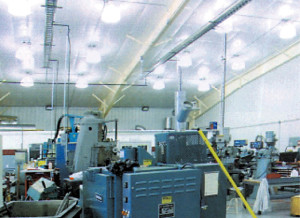 However, there is another advantage for choosing steel framing for industrial structures.
Versatility allows pre-engineered steel buildings to adapt to every industrial building need. That's the major reason steel frames 95% of all new industrial construction today.
The Perfect Building System for Every Use
Industrial businesses include anything from small family-owned enterprises to mega-warehouses and manufacturing plants— or anything in between.
Consider just some of the industrial steel frame buildings in use across North America:
• Agricultural buildings for large-scale farming operations
• Aircraft hangars
• Airport terminals
• Assembly plants
• Automotive detailers
• Biotech labs
• Body shops
• Breweries
• Campus-style business parks
• Commercial bakeries
• Commercial greenhouses
• Custom auto shops
• Data hosting centers
• Distribution centers
• Factories
• Fleet garages
• Foundries
• Import/export companies
• Income producing industrial parks with buildings for lease
• Industrial retail operations
• Industrial plants
• Large storage space
• Light industrial operations
• Light manufacturing operations
• Lumber mills
• Lumber yards
• Machine shops
• Manufacturing plants
• Meat processing plants
• Mechanics shops for auto dealers
• Metal building factories
• Metal fabrication operations
• Mills
• Mining operations
• Multi-level warehouses
• Multi-purpose industrial buildings
• Oil and gas buildings
• Paper mills refineries
• Power plants
• Printing shops
• Processing centers
• Recycling centers
• Refineries
• Refrigerated and cold storage operations
• Research and development operations
• Retail showrooms
• School bus depots
• Scrap metal dealers
• Shipyards
• Sports buildings
• Steel barns
• Steel buildings with overhead cranes
• Steel Warehouses
• Storage buildings for heavy equipment
• Textile factories
• Transfer stations
• Transportation depots
• Truck terminals
• Vehicle showrooms
• Welding operations
Durable and Economical— with Eye Appeal
Industrial steel frame buildings are versatile in size, framing, function— and appearance.
While attractive, long-lasting, steel cladding works for many steel industrial buildings, it is only one choice of many. All pre-engineered steel buildings— including metal industrial buildings— can be finished in any common exterior product, to fit any design. Other choices include:
• Block
• Brick
• Glass
• Reflective cool-coated panels
• Rock
• Colorful Galvalume® steel panels
• Stucco
• Tilt-up concrete
• Wood
Call RHINO Today!
Let us show you the RHINO difference in metal industrial buildings. RHINO ships all across America, Canada, and Mexico.
For details and a no-obligation quote, please call: 940.383.9566.