Industrial-Strength Buildings for the Industrial Market
Steel industrial buildings reign in today's market. Steel-framed buildings account for an astounding 95% of all new industrial construction.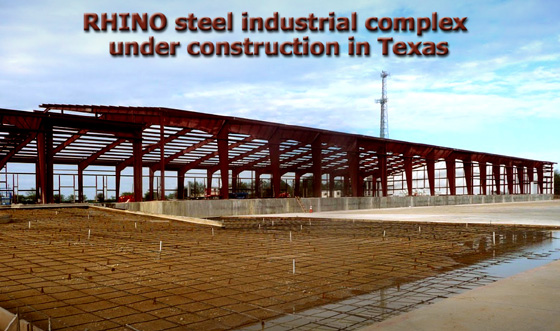 Why is steel the building material of choice in almost all industrial construction? That's easy to answer: it's the bottom line. Metal industrial buildings cost less to buy, construct, and operate than other building systems. Learn more benefits of steel building materials for industrial projects below.
The Unlimited Possibilities of Pre-engineered Metal Buildings for Industry
#1. Although industrial operations might be small or large in scope, the majority of industrial enterprises require large buildings with lots of floor space. No other building material compares to the strength-to-weight ratio of steel.
WIDTHS:

Steel spans large areas with ease. Column-free interiors bridging up to 150' are routine. Unobstructed widths up to 300' are possible with a custom order. With minimal interior support columns, steel industrial buildings may reach a maximum of 480' in width.

HEIGHTS:

With RHINO's prefabricated steel building system, towering vertical space presents no problem. Standard quotes cover eave heights up to 40'. (Even taller structures are available with a custom quote.)

LENGTHS:

Only property size and budget constrains the building length for a RHINO industrial steel building. There are no other building system limits for the length of any RHINO structure.
The Economics of Choosing a Steel Industrial Building
#2. The affordable cost-per-square-foot pricing for pre-engineered steel building materials surprises many people. Pre-engineered steel framing is by far the most cost-effective way for industry to build.
#3. Factory-built components assure quality control and precision. The factory cuts, shapes, drills, punches, paints, and marks every piece of steel. The framing arrives ready to assemble. Think of a prefabricated steel building as a giant erector set. Factory-made parts slash construction time by 33% or more. Prefabricated RHINO industrial buildings save time, money— and hassles.
#4. RHINO metal framing ships from the closest factory, keeping freight costs to a minimum.
#5. Adding RHINO's premium Pro-Value Insulation Package to the order is a smart move— especially in climate-controlled industrial buildings. Heating and cooling costs may account for 30% of the total operating costs of a building. The Pro-Value insulation system reduces energy consumption by as much as 50%.
#6. Because steel is noncombustible, most insurance companies offer big discounts to steel building owners. Lower insurance rates mean lower operating costs. Many industries also require the use of volatile solvents or chemicals. For these industries, the fire-resistant qualities of steel provide greater protection.
#7. Building maintenance takes another big chunk out of an operation budget. Steel structures require very little maintenance. Hosing off the steel roof and wall exteriors and clearing gutters once a year pretty well covers maintenance.
This Is Just the Beginning…
Convinced RHINO offers the best deal for industrial buildings? Contact RHINO now about our attractive, versatile, durable, steel building. Call now: 940.383.9566.
Need still more reasons to choose steel for your next warehouse, factory, or other industrial building? Stayed tuned to this blog for additional incentives for choosing RHINO steel industrial buildings.