The Surprising Flexibility of Pre-engineered Metal Buildings
In our last blog, we covered seven ways steel industrial buildings provide unlimited possibilities at an economical price. However, these are just a few of the many reasons metal buildings hold a 95% market share in industrial construction. Here are seven more benefits provided by pre-engineered metal industrial buildings:
The Versatility of Pre-engineered Steel Industrial Buildings
#1. FRAMED OPENINGS: The strength of steel allows for larger openings than other building methods. Maneuverability of large equipment is important to many industries. Ease of motion saves time— and avoids accidents. Bigger entryways help move larger products like trucks, RVs, or aircraft more easily, too.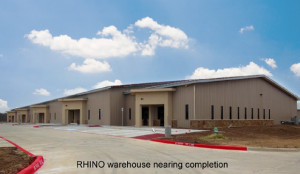 Pre-engineered steel industrial buildings allow flexible framed openings, meaning they can be factory-located wherever is convenient for that specific operation.
RHINO offers overhead doors in sizes from 20' to 70' in width. Insulated doors and certified wind-rated doors are also available. Hydraulic bi-fold hangar-style doors and sliding hangar doors are other options from RHINO.
#2. FLEXIBLE INTERIORS: Warehouses and manufacturing facilities must constantly adapt to changing needs to maximize efficiency. Pre-engineered steel buildings span farther than other building methods. Unobstructed interiors mean greater floor space flexibility.
However, space is not just horizontal— it is also vertical. Successful warehousing demands optimal use of all space, including overhead space. Metal industrial buildings allow much higher eave heights, creating storage area beyond the total square footage of the structure.
RHINO offers optional mezzanine floors for metal industrial buildings. Using the mezzanine areas for storing smaller products, or for offices, preserves the main floor for operations.
#3. FUTURE EXPANSION: As the industry changes and grows, needs change. Expanding at the current location is no problem with RHINO steel industrial buildings. Adding steel framing to either endwall is simple and economical.
Remodeling and renovation is far less disruptive with pre-engineered steel buildings than other types of construction, too. Many businesses add space to create new offices or an exciting showroom for their product.
#4. CRANE OPERATIONS: Heavy manufacturing often requires overhead cranes for moving weighty products efficiently down the production line. Metal industrial buildings can be engineered to handle the additional loads of overhead cranes and other heavy-duty equipment.
#5. MULTI-PURPOSE OPERATIONS: Metal buildings work particularly well for businesses with a combination of industrial and commercial use. A manufacturing operation may need separate, but connected, space for creating products and displaying the finished products in a retail store. One RHINO customer built a meatpacking plant, attached to a sausage factory, connected to a high-end delicatessen.
Industrial applications usually prefer a dependable steel-clad building for operations. Sometimes a more sophisticated façade is required for a showroom or retail store. Steel industrial buildings adapt well to any exterior finish. Glass, brick, stone, stucco, wood, or tilt-up concrete can be used to create an enticing, up-scale building design.
#6. CUSTOMIZING OPTIONS: In addition to overhead doors and mezzanine floors, RHINO offers a multitude of other accessories for steel industrial buildings. Choose from a variety of building-enhancing options like these:
Steel canopy kits
Entry doors and accessories
Standing seam metal roofing and cool-coated roof panels
Thick batt insulation system for maximum energy efficiency
Interior liner panels and partitions
#7. DURABILITY: One of the greatest assets of metal industrial buildings is their longevity. A RHINO steel industrial building will last longer— and retain its value longer— than any other building system.
Still More to Come…
Learn more about the advantages of choosing a RHINO-tough steel industrial building. Speak with an experienced RHINO steel building specialist today. Call us at 940.383.9566.
Do not miss our next blog covering the eco-friendly rewards of metal industrial buildings.