The Importance of Ventilation in Steel Buildings
Providing adequate airflow in a metal building affects both the comfort level inside and the durability of the structure. Preventing moisture buildup with good industrial ventilation prolongs the life of a steel building.
Three Factors Affecting Climate in a Metal Building
Climate controlled buildings create some airflow and control moisture with heating and air-conditioning systems. Even these may need additional ventilation. However, many metal buildings are not climate controlled. These include: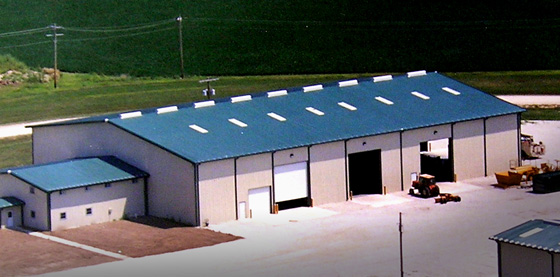 • Agricultural buildings, barns, and stables
• Auto detailing garages
• Auto repair shops
• Boat, truck and RV garages
• Chemical plants
• Lumber yards
• Manufacturing plants
• Metal shops
• Self-storage buildings
• Warehouses
• Welding shops
Size, location, and use determine the need for industrial ventilation in a metal building.
SIZE: The larger the structure is, the greater the need for good ventilation.
LOCATION: Excessively hot summers, extreme winters, and high humidity levels all affect indoor air quality and airflow in any structure. In areas with hot summers, warm air trapped in the building makes inside temperatures unbearable if ventilation is in adequate. Cold locations— and very humid places near lakes or coastlines— may experience condensation problems if not properly ventilated.
USE: The use of the building affects the need for airflow in a metal building, too.
Buildings which will contain a large number of people, as in a manufacturing plant, can expect higher humidity. Structures housing livestock experience the same high levels of moisture in the air. In welding shops and metal shops, heat builds up. Fresh, circulating air helps to dissipate chemicals, solvents, or other contaminants used by the business. It creates healthier, more pleasant working conditions.
Condensation buildup reduces insulation effectiveness. Uncorrected, it may promote rust, shortening the lifespan of the building's metal sheathing.
RHINO Knows Ventilation Needs for Metal Buildings
Your RHINO metal building specialists will help you with the unique ventilation for your metal building. Our experienced team can answer all your steel building questions. They can lead you through the ordering process— including the selection of air vents— quickly and easily.
Why not call RHINO now at 940.383.9566 for more information a free metal building quote, including air vents and other accessories.