If You Need a Building, You Need a RHINO Steel Structure
RHINO prefab metal buildings are so versatile and adaptable, they fit every low-rise structural need.  In fact, RHINO's amazing versatility lends itself well to endless applications and building types.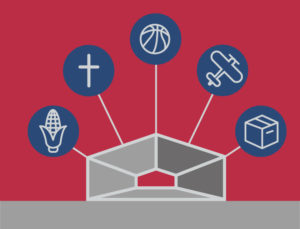 Whether you require a 900 sq. ft. storage building, a 90,000 sq. ft. warehouse, or anything in between, RHINO's got you covered.
Let's look at the main uses typical for adaptable RHINO metal buildings.
Steel Commercial Buildings
Commercial businesses love the benefits provided by RHINO steel buildings.  After all, what business owner wouldn't appreciate quicker construction, smaller utility bills, cheaper insurance premiums, and less upkeep?
Moreover, steel structures do not have to look like a metal barn.  Types of prefab metal buildings adapt to any exterior style.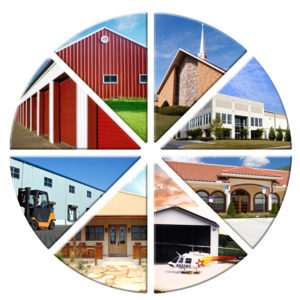 Stores, restaurants, offices, and service industries of all types rely on RHINO steel framing for their building needs.
Steel Industrial Buildings
Here is a shocking statistic that will knock your socks off:
Steel frames 95% of all low-rise industrial construction in America today! 
Did you ever hear of any other business taking that much of the market?  Certainly not.
And that is just one of the interesting aspects of steel.
Quite simply, no other building method offers the affordability, durability, and flexibility of prefab metal buildings.
Metal Pole Barns and Agricultural Structures
Some people mistakenly call prefab steel buildings "metal pole barns."  Actually, pole barns are wood structures.  However, no matter what you call it, pre-engineered steel structures are what you really have in mind.

Farmers and ranchers choose RHINO steel buildings for every kind of agricultural structure imaginable, including:
Barns
Crop storage
Equipment storage
Hay sheds
Horseback riding arenas
Livestock shelters
Poultry houses
Stables
Workshops
Steel Warehouses
Warehousing requires massive free span space.  Only pre-engineered steel buildings stand up to the challenge.
Steel warehouses provide the towering ceilings and column-free spaces that are not possible with other building systems.  Moreover, on large structures like warehouses, steel offers an incredibly low cost-per-square foot.
Metal Churches
From small rural cowboy congregations to big-city mega cathedrals, steel reigns in church construction.
Like warehouses, churches demand clear, unobstructed space.  Only pre-engineered steel buildings deliver that kind of open area.
In addition, commercial-grade steel structures adapt to the vision and the budget of each house of worship.  In fact, the versatility of steel makes it perfect framing material for both sanctuaries and other church support structures.
Steel Airplane Hangars
Like warehouses and churches, aircraft hangars demand space— and lots of it.  Equally important, hangars also require huge doors.
Once again, RHINO steel buildings are the answer.
Customize your hangar to the specifications of your aircraft.  Choose from a multitude of available options, including several types and sizes of hangar doors.
Furthermore, only steel hangars provide the strength needed to protect your plane or chopper from storm damage.
As an added bonus, steel's noncombustible nature helps safeguard your aircraft from fire, too.
Metal Garages, Workshops, and Home Storage Structures
Commercial and industrial steel structures aren't the only uses for RHINO prefab metal buildings.  Not surprisingly, many people choose RHINO for their personal building needs, too.
In fact, we find many of our customers choose the RHINO building system for home projects like these:
Hobby huts
Home offices
In-law cottages
Large storage buildings
Man caves and she sheds
RV and boat storage
Workshops
And so much more
Why steel?  Because, individuals want the same benefits steel provides for businesses.
For example, do-it-yourselfers like the easy bolt-together assembly of our steel structures.  In addition, eco-conscious people enjoy the green building qualities of recycled steel.
However, our buyers mostly choose steel for its stronger protection from termites, violent storms, earthquakes, and fire.
Self-Storage Structures
Let's face it, Americans are junk collectors.  When the clutter becomes too much, we turn to self-storage options.  Consequently, the self-storage business is booming.
And nothing frames stronger, safer, and smarter self-storage units than steel.  Additionally, steel also offers protected coverings for boat and RV storage rentals, too.
Sports and Recreational Buildings Framed with Steel
Gyms, sports centers, and open-air pavilions all depend on the strength of steel.
From indoor sports to outdoor shelters, prefab steel buildings offer the most space at the best price.
Conclusion
Whatever your building need, pre-engineered steel structures deliver the best building you can buy.
Depend on RHINO Metal Buildings for All Your Construction Needs
Do you want to know more about the different types of metal buildings? Call RHINO today at 940.383.9566.
(Updated 7-31-2019.  Originally published 4-15-2014.)