BUILDING BUNS OF STEEL IN METAL GYM BUILDINGS
Health clubs, fitness centers and gyms are springing up all across the U.S. and the world. Membership-based fitness facilities like these create an exciting income potential for health-conscious individuals, professionals, and investors alike.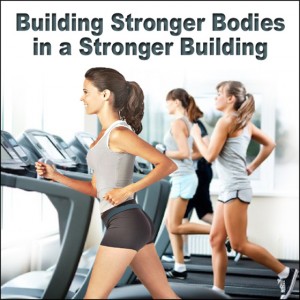 How much income does the fitness club industry generate? Globally, member-based fitness facilities rake in over $84 billion annually.
The key to success in the fitness market is to create an inviting environment at a convenient location, staffed with attractive and professional fitness trainers who motivate members to reach their health goals.
12 Reasons to Choose RHINO Steel Buildings for Fitness Facilities
Pre-engineered metal buildings create great centers for fitness operations.
Listed below are just a few of the advantages metal buildings offer health club-type businesses:
Unobstructed interiors.

No invasive support columns or walls in the way.

Wider structures.

Steel buildings span 200' or more.

Higher structures.

Steel allows ceilings 40' or more in height.

Floor plan freedom.

Steel buildings are simple to design now or change later.

Faster construction.

Pre-engineered steel buildings cut construction time 33% or more.

Affordable upkeep.

Virtually maintenance free.

Lower utilities.

Pro-Value insulation packages save up to 50% on heating and cooling costs.

Green building.

Steel is the most recycled material in the world

Discounted insurance.

Lower insurance rates with most carriers.

Eye-catching appearance.

Use colorful steel panels, glass, stucco, brick, stone, or wood for the exterior look you want.

Worry-free operating.

Resistant to damage from condensation, earthquakes, fire, high winds, leaks, lightning, mildew, mold, rain, snow, and termites.

Longer life.

Retains beauty and value far longer than other types of construction.
Marketing Tips for Fitness Facilities
Marketing for fitness centers and gyms consists of enticing new members into your facility and motivating them for success.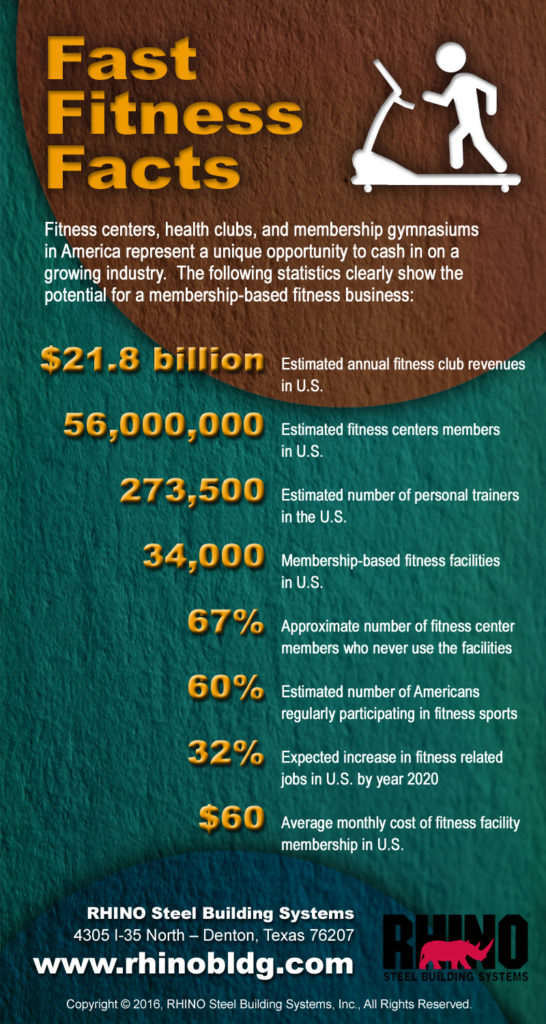 Here are a few ideas for increasing memberships:
Well-publicized organized events and fitness competitions make your facility stand out from rival exercise havens. For example, invite two local businesses to meet head-to-head in competition.
Create a weight-loss challenge between local businesses or organizations, with short-term discounted memberships. Ask local off-duty firefighters and police face off at your facility for a friendly (and publicized) competition. Be creative!
Try discounted trial memberships to bring in new clients.
Offer a free training session with a personal trainer to non-members who sign up on a specific day or week.
Referral programs keep existing members busy expanding your membership rolls for you.
Offer incentive programs for long-time participants, to keep loyal members returning.
A professionally designed and maintained web site enhances a fitness facility's image.
Share health tips, meal plans, and recipes with a membership-only blog or in an e-mail campaign. Share the success stories of members who lost weight or improved their endurance. Feature a member each month.
Work social media sites like Facebook and Twitter to stay connected with members.
For more information on constructing RHINO steel buildings for health clubs, fitness centers and gyms, speak to a RHINO metal building specialist. Call us today at 940.383.9566. We will be happy to discuss your upcoming project and provide you with a metal gym building quote.