Finding the Best Metal Building Company Before You Buy
Smart buyers want to know more about their metal building supplier than just the price.  A cheap price is not always the best deal on a pre-engineered steel building.
The following questions will help you determine whether you are really getting your money's worth with a particular metal building company.
How Reliable is the Metal Building Supplier?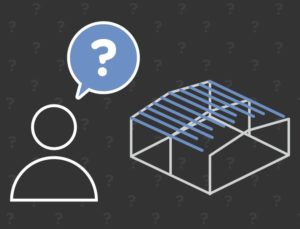 First of all, you want to be sure that you are dealing with a reputable steel building company.
Where are you located? A nearby sales office is not necessary, but it is sometimes convenient for larger, more complicated structures.
How long have you been in business? If it is a new company, with little verifiable history, you might want to reconsider doing business with them.
Do you have a factory near me? The closer the factory is to your location, the less you will pay for shipping.
Can you supply me with references? If they dither on an answer to this question— or worse, refuse to supply references at all— cut and run.
How experienced is your sales team? An experienced metal building specialist offers tips and shortcuts that can really save you money.  Moreover, they will treat you with respect and courtesy, willingly answering all your questions— without pushing you for an immediate sale.  Beware of any aggressive salesperson that has been trained to push hard to seal the deal.
How Good is the Metal Building Kit?
Secondly, determine the quality of the building product offered by this metal building supplier.
What type of steel building do you sell? Not all steel buildings are the same.  Is this a pre-engineered kit with commercial-grade rigid steel?  Or is it a lighter steel product?
How versatile is your framing system? Does this system actually fulfill the needs of your building project?
Can I customize my metal building? If your project has specific needs beyond the basic box metal building, inform your company contact.  Make sure that your ideal building is not beyond the capabilities of their framing system.  Also, ask about the metal building supplier's change order policy.  If you decide to "tweak" the design after fabrication has begun, the change order can be very expensive.  Finalize your design before you place your order.
Are your buildings easy to enlarge? Do you have plans for future expansions of your structure?  If so, make sure expansions are possible and economical with this system.
What warranties do your metal buildings carry? If the company does not stand behind their product, shop elsewhere.
What type of steel sheathing do you use? Some steel building suppliers use thin 29-gauge steel cladding with weak connections and less overlap between the sheets.  If the customer wants something stronger, the price suddenly jumps up.  (Look for extra-strong 26-gauge PBR panels for the best results.)
What other exteriors are possible? Better steel systems allow the use of any typical building exteriors, including glass, stone, brick, stucco, tilt-up concrete,
Is the framing prefabricated for easier erection? Are the framing components cut, welded, drilled, painted, and marked at the factory to facilitate quick assembly?
Do your metal building kits include any special features? Higher quality building kits offer special waterproofing features not available with cut-rate kits.  Moreover, premiere building kits include door and opening trim, tighter-fitting ridge caps, rust-resistant formed base trim, pre-welded clips, and more.
Are all the fasteners included? Most pre-engineered metal building kits include all the bolts, nuts, and self-drilling screws required to erect the framing.  Typically, the customer or concrete contractor purchases the foundation bolts locally.  Also, ask for details about the quality and rust resistance of the fasteners
What other options do you offer? Can you purchase entry doors and overhead doors and have them shipped with the framing kit?  Does the company offer insulation packages, gutter systems, canopies, skylights, vents, etc.?
What are the Limitations of the Metal Building System?
Next, discover if the building system actually fits your structures dimensions.
What sizes are available? Again, you want to be sure that they adapt to your needs, not try to coerce you into compromising your design to their preferences.  Keep in mind, however, that an experienced sales consultant often suggests possible modifications to improve your design or lower your costs.
What are the size limitations? In other words, will the dimensions of your proposed structure fit within the parameters possible for this building system?  This is especially important if you need an exceptionally large structure or a clear span
Will the building be designed for my specific use and location? A reliable metal building supplier designs and engineers the structure specifically to the customer's preferences and to the local building codes.
Finally, Pricing
Once you have uncovered the reliability of the company, the quality of their structures, and the parameters of their system, you can finally get to the bottom line— what is it going to cost?
How much will my steel building cost? Remember, the more specific you can be, the more exact your quote will be.
What exactly is included at this price?  What is part of a "standard" package may vary from one company to the next.  Any options chosen beyond that will add to your total price.  Make sure your quote includes an exact list of what is included.
How long is my price locked in? Like any other building material, steel prices fluctuate from time to time.  Ask how long the company will hold your quoted price.
How long will it take to ship? Depending on the complexity of your design, fabrication and shipping normally takes six to seven weeks for most companies.  However, some steel building suppliers can ship in as little as four weeks for simpler designs and smaller structures.
Conclusion
Informed buyers make the best choices.  Ask questions.  Compare prices and service.  Then choose the deal that is ultimately best for your project and budget.
RHINO Challenges You to Test Our Metal
RHINO Steel Building Systems invites you to look us over.  Our experienced metal building specialists can answer all your questions.  We are proud of our company, our buildings, and our prices.
We have built our reputation one structure at a time over two decades.  Our extraordinary number of returning building buyers proves we're doing it right.  In addition, RHINO boasts an A+ rating with the Better Business Bureau.
Our steel framing is guaranteed to meet— or exceed— all your current local building codes for the lifetime of your structure!
Join the thousands of satisfied RHINO customers.  Call us today at 940.383.9566.  RHINO is headquartered in Denton, Texas.  However, we ship from multiple locations to anywhere in North America.