Adding Personality and Pizazz to a Pre-engineered Steel Building
There are many ways to customize a metal building so that it does not look boxy and barn-like.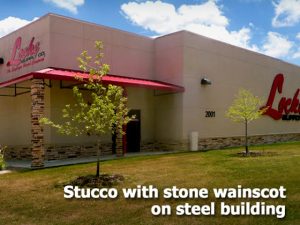 Granted, the basic box with a low-pitched gable roof is the most economical pre-engineered steel building. However, the structure may need a more customized facade for some applications. That's no problem for the RHINO Steel Building System.
Here are five ideas and steel building options you can use to create the perfect look for your steel building project.
#1. Dress Up the Exterior
For most agricultural, industrial, and storage applications, RHINO's "no-frills" sturdy standard steel exterior panels prove to be the most affordable and practical choice.
However, in many commercial applications, owners may prefer a more traditional exterior. Any exterior finish can be used to customize a metal building from RHINO. The following, used alone or in combination, create a more upscale exterior:
Brick
Concrete block
EIFS (Exterior Insulation Finish System)
Faux rock and stone panels
Glass
Fiber cement board
Steel panels and cool-coated panels
Stucco
Wood
Incorporating wainscoting also improves curb appeal to a commercial or industrial steel building. A wainscot adds a contrasting color or texture to the bottom of an exterior wall. Steel panels in a contrasting color, brick, and stone all make handsome wainscoting.
#2. Change the Roofline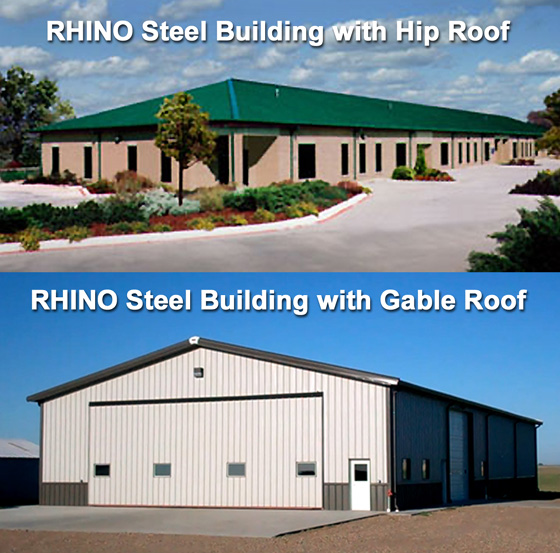 The best buy for a metal building roof is a simple, low-pitched gable roof ending flush with the sidewall. Nevertheless, that's certainly not the only choice for pre-engineered steel buildings. Any of the following design modifications will dramatically change the look of the structure:
Choose a hip roof instead of a gable roof
Add eave extensions from 2' to 10' deep
Include a self-supporting endwall canopy from 3' to 10' deep
RHINO also offers optional end wall canopies from 3' to 10' in depth so you can customize your metal building. These roof canopies are self-supporting.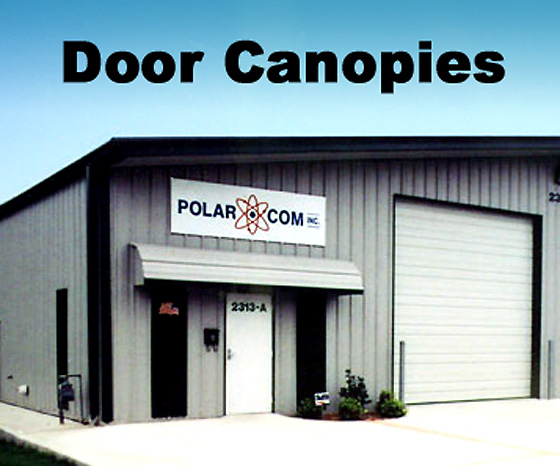 Smaller door canopy kits are also available in for 30", 40" and 60" wide doors.
#3. Use Residential or Commercial Doors and Windows
Many of our commercial customers prefer more traditional residential-style windows and glass entry doors for their business. These can be easily purchased locally and installed on any RHINO steel building.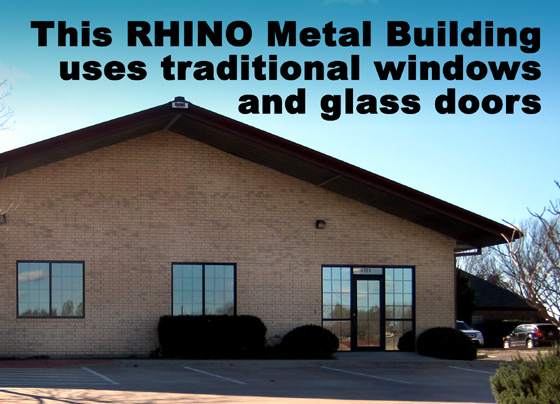 Fixed-glass windows are also simple to install in a pre-engineered steel building, and are preferred for increased security or for larger window areas, as in retail stores.
#4. Create Shade with Metal Awnings
RHINO offers metal canopy kits to fit 30" to 60" wide doors. These handy, protective metal awnings are both practical and attractive.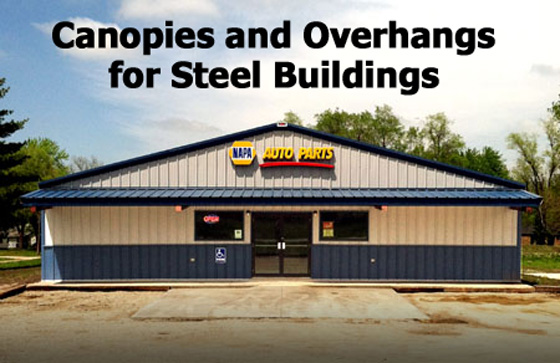 Longer canopies create shaded, porch-like areas across entrances and exits.
#5. Alter the Building Profile
To break up the rectangular shape of a basic metal building, add smaller frames to "pop-out" of the main structure. These building extensions fit perfectly along sidewalls or endwalls.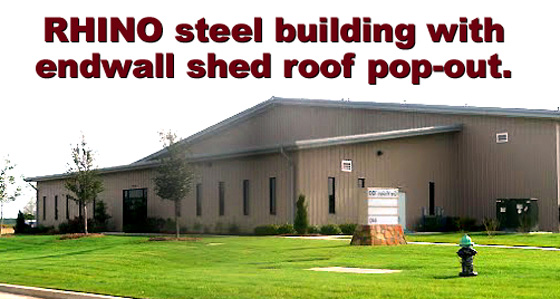 In addition to their structural appeal, smaller frame additions make useful for drop-off points on churches, offices on manufacturing plants, or customer lobbies on automotive repair shops, just to name a few.
Owners of existing metal buildings often remodel and add square footage by attaching smaller metal building frames.
Doing the exact opposite also creates visual interest. Receding an exterior wall under the roofline helps break up the box-like profile of a structure. Instead of placing the exterior wall at the last steel frame, it is placed farther back under the roof.
Customize a Metal Building the RHINO Way
Call a specialist today to learn more about tailoring a RHINO metal building to your specific vision and budget, as well as more about all the benefits offered by steel buildings. Call RHINO now for info on customizing metal buildings: 940.383.9566.
RHINO: The Stronger, Safer, Smarter Way to Build Today!