Adding Personality to a Metal Building by Changing the Roofline
In pre-engineered steel buildings, nothing is more affordable than a basic box. Most agricultural, aviation, and industrial metal building buyers find "no-frills" prefabricated metal buildings both practical and economical for their needs.
However, commercial buyers sometimes require a more upscale building appearance. Their building designs must attract customers and blend in with neighboring businesses. Although these buyers long for the benefits of steel buildings, they think steel limits their exterior design choices.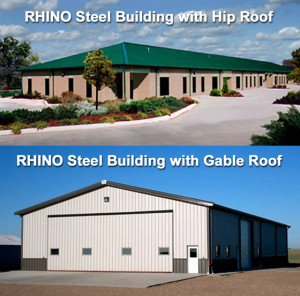 They are SO wrong.
Steel buildings are incredibly versatile.
This series of articles on "dressing up" metal buildings will be full of ideas on adding panache to any building project. Let's begin with simple roofline modifications.
Increasing Roof Pitch
Pitch refers to the slope of a building's roof. Specific pitches are referred to as a ratio, such as a 4:12 roof. The ratio indicates how much rise there is in the roof slope for every foot it runs horizontally. Therefore, a 4:12 pitch rises 4" for every 12" it spans.
Increasing the pitch of the roof is an inexpensive way to change the cosmetic look of the structure. It changes the "boxy" appearance of the building to a more traditional-looking structure.
If you need extra storage space or clearance above the eaves, a higher pitched roof may be your answer.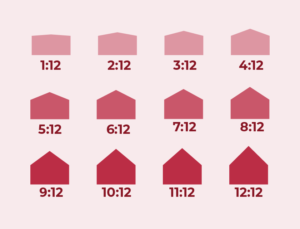 On the practical side, a higher roof slope sheds water and snow more efficiently than a flatter roof, reducing the chance for leaks. In air conditioned buildings, the additional cubic feet overhead allow heat to rise above the floor area, reducing air conditioning costs.
Higher pitches often fit in with surrounding buildings better, too.
For example, church and temple designs often require extremely high-pitched roofs for towering ceilings in their sanctuaries. Steel buildings rise to the occasion. Pre-engineered also provides higher eave heights and unobstructed spans not possible with other building systems.
Gable vs. Hip Rooflines
The standard metal building package pricing assumes a structure with a gable roofline with a low-pitched slope. Typically, metal building buyers choose 1:12 to 4:12 pitched rooflines. Low-pitched gable roofs are usually the most economical choice. In areas of High Snow Load, it may be more economical to choose a higher pitch for maximum snow shed.
Hip roofs are also possible with pre-engineered steel buildings.  In an area dominated by hip roofed buildings, a hip roof steel building blends in beautifully.
If you are planning a new medical clinic for an area of medical complexes with hip rooflines, you may choose to conform to the surrounding structures. Conversely, you might also choose a hip roof office building in an area of all gable-roofed offices to make your business stand out from the common herd.
Learn More about Modifying Steel Buildings
As this series continues, you will discover other ways to adapt your steel building to your specific design requirements, such as adding overhangs or canopies. Call an experienced RHINO metal building specialist right now and discuss your metal building needs.
The RHINO steel building hotline is 940.383.9566.