Oil and Gas Production Driving North Dakota's Economy
The recent economic surge enjoyed by the Roughrider State make this the ideal time to construct metal buildings in North Dakota.
The Urgent Need for Metal Buildings in North Dakota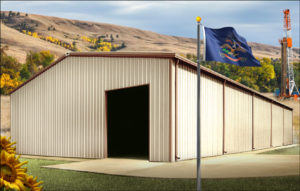 Expanding oil and gas production produced a radical upward swing in the state's economy in the last decade. A rapid influx of job seekers ensued. Consequently, a building boom needs to follow.
Pre-engineered metal buildings in North Dakota suit the two largest construction concerns for the booming state: speed and strength.
Speedy Construction
Because everything is prefabricated, steel buildings erect quickly. Everything arrives at the job site ready for fast assembly.
All the framing is cut, welded, punched, painted, and clearly marked. Moreover, the building's skeleton bolts and screws together quickly, like a grown up version of a kid's erector set.
Typically, a RHINO steel building shaves 33% off construction time. That's important in a state crying out for buildings.
Strong Construction
The second challenge for steel buildings in North Dakota is strength. Steel boasts the highest strength-to-weight ratio of any building materials, making it the perfect building material for the state.
According to the National Weather Service, North Dakotans have experienced the following from 1950-2017:
Tornadoes in every county in ND
F4 twisters in 11 counties in ND
F5 tornadoes in Cass, Emmons, and Morton counties
Large hail storms in every county in ND
Hail exceeding 4" in diameter in 26 counties
Non-tornadic winds exceeding 100 MPH in 31 counties
Non-tornadic winds over 125 MPH in Dickey, Grant, McLean, Sargent, and Slope counties
RHINO's steel buildings meet or exceed every current local building code— and that is guaranteed for the lifetime of the structure. In addition, commercial-grade steel buildings have built-in fire and lightning resistance. In fact, non-combustible metal buildings earn sizable discounts on insurance premiums with most carriers.
Battling Temperature Extremes
North Dakota residents face some of the harshest weather conditions in the U.S. Record temperatures for the state range from -60 degrees to 121 degrees Fahrenheit— and these both occurred in the same year! On average, the people of North Dakota endure 50 days a year of sub-zero weather. Summer temperatures in the 90s are common.
Such baking summer heat and bitter winter cold demands well-insulated structures. RHINO's Pro-Value Insulation System keeps steel buildings snug and comfortable. In addition, Pro-Value Insulation slashes power usage in half, too!
RHINO Metal Buildings in North Dakota
North Dakotans discover affordable RHINO steel structures meet all their low-rise building needs. Our steel building systems adapts easily to buildings for:
Aircraft hangars
Churches
Office buildings
Personal garages and storage
Recreational and sports facilities
Self-storage facilities
Warehousing and manufacturing
Workshops
Find out why the best building deal is a steel building kit from RHINO. Call us now at 1.940.383.9566 for more information, free estimates, and full product details.