7 Reasons Furniture Store Owners Choose PEMBs
Furniture retailers rely on the dependability and cost-effectiveness of steel buildings. From the local mom-and-pop mattress store, to an office furniture retailer, to a gigantic furniture discount warehouse, pre-engineered metal buildings (PEMBs) deliver the features furniture store owners demand.
1. Affordable to Buy and Build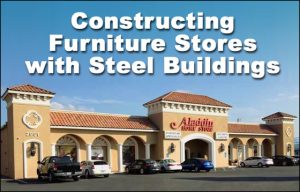 A low cost-per-square-foot makes RHINO steel buildings an affordable structural system for retailers.
Steel's extraordinary strength means fewer pieces construct an exceptionally stable building. Every piece of the factory-built, quality-controlled framing meets steel industry standards.
The steel framing arrives at the construction site, clearly marked and ready to assemble. The furniture store erects very quickly, slashing construction time by 33%.
2. Affordable to Operate
Building maintenance cuts into a furniture store's budget. However, steel buildings require very little maintenance, shaving operational costs. And RHINO metal buildings retain their beauty and value for decades longer than other structures, too.
Commercial buildings devour huge amounts of energy. Yet, RHINO steel buildings with a Pro-Value Insulation package , reducing operating costs even more. Choosing cool-coated steel roof panels lowers utilities an additional 7% to 15%.
The fire resistant qualities of commercial-grade steel framing earn big discounts with most insurance carriers, too.
3. Wide, Open, Flexible Space
Furniture store inventory consists mostly of bulky objects. Therefore, maneuverability ranks high on the list of must-haves for home furnishing stores.
Only steel supplies sufficient strength to create the massive, unobstructed space commercial furniture retailers require. A RHINO steel building spans as far as 300-feet without any interior supports. With minimal support columns, RHINO structures reach 480-feet in width—the length of one-and-a-half football fields!
Successful furniture retailers need to adapt the sales floor quickly as inventory moves out the door. The open space of a clear span RHINO structure allows displays to change quickly with minimum bother.
Any length is possible with RHINO steel buildings. Our designs can reach 40-feet or more. (Some furniture stores maximize the space by adding upstairs offices with mezzanine floor systems.)
4. Durable
Steel buildings are built strong to last long.
PEMBs promise increased protection from mold, termites, heavy snows, blustery winds, lightning, and earthquakes. In fact, RHINO steel buildings carry a guarantee to meet or exceed all current local building codes and loads for the lifetime of the structure!
5. No Style Limits
RHINO steel buildings are incredibly versatile, making it easy to match the building exterior to the furniture store's image.
To attract upscale clients, furniture stores with high-end name brands desire an elegant retail facade finished in brick, stone, or stucco, with wide glass expanses. For example, the attractive 25,000 square-foot Aladdin Home Store shown in the photo above is finished in stucco with tile roof accents.
For discount furniture stores, a steel-clad structure with a warehouse look may best suit their needs. A retailer specializing in Western-style furniture and decor may prefer a down-home storefront, with a rambling porch and rough wood trim.
Any exterior building material may be used with a RHINO steel framing.
6. Simple, Economical Expansion
As the furniture operation grows, so can its metal building. Choosing to construct with load-bearing endwalls simplifies future expansion— and provides more options for remodeling. Square footage may also be added on the sidewalls, by simply attaching adjacent self-supporting steel framing.
7. Building Green
Steel is by far the most recycled material in the world. The recycled scrap metal from 60 wrecked cars could produce enough steel to frame a 20,000 square-foot steel furniture or appliance store. And at the end of the store's lifespan, the steel framing lives on, as it is recycled again.
Selling Home Furnishings in Steel Buildings
Call RHINO Steel Building Systems for a free, fast, friendly quote on your next appliance, electronics, home furnishings, or office equipment store. Our knowledgeable metal building specialists offer real world answers based on their years of steel building experience.
Whether you require a 2,500 square-foot bedding store or a 50,000 square-foot discount furniture warehouse, RHINO offers the best deal in steel. Call us now at 940.383.9566 to learn more.