Part 2- 6 More Ways to Grow Your Business in 2017
In part one of this series, we provided seven ways for expanding your business in the coming year. Following are more business expansion strategies for increasing your scope and profits.
Six More Ways to Increase Business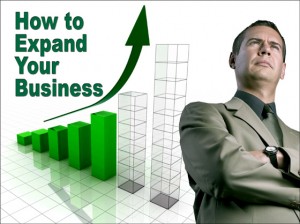 8. Create a strategic alliance: Are you a successful fitness trainer? Develop a strategic alliance with DVD producer and distributor to create fitness-training videos.
Do you fashion cakes for special occasions that are works of art? Generate a strategic alliance with an event planner or caterer who can wow their upscale clients with your gorgeous creations.
The idea is to combine forces with a complementary business to create a win/win association for both of you.
9. Increase your brand awareness: When people begin to think of your brand as the brand for your product, you have achieved brand awareness. For example, do you ask for a "Kleenex" to blow your nose, or do you ask for a "facial tissue?" Do you put coffee in a "Thermos," or do you reach for a "vacuum bottle?"
Here are just a few ideas for intensifying your brand awareness:
Establish a real relationship with your buyers. Make them feel like more than sales figures. Build trust. Let your customers see you as people, not just a sales force— and see your customers as people, not just dollar signs.
Deliver killer customer service. Impress your clients by exceeding their expectations. Add incentives for your buyers to refer your product or service to friends and family.
If your business depends on local customers, collaborate with other compatible businesses in joint seminars, fairs, or other local events that would appeal to your sales demographics. Sponsor local charity events. Be sure to have advertising freebies to give away with your brand proudly displayed.
Keep your brand before the public— and especially before your buyers. Remember, "out-of-sight, out of mind."
Educate or entertain your customers. Produce helpful e-mail "how to" or "free tip" articles, newsletters, or blogs that remind your customers of your brand. Produce content-rich blogs on your Web site or guest post on other sites.
Create brightly colored infographics with fascinating facts or data that others will share on the Internet.
Take advantage of social media. Generate an image for your brand as the "industry expert" in your field.
Create social media contests. Your customers will share your link with friends and family to get more votes for their entries. For example, host a poetry, slogan, or photo contest.
Display your logo prominently in all ads, promotional materials, Web articles, newsletters, and photos.
Build a marketing strategy that includes all these elements in a cohesive plan to gets people talking about your brand.
10. Target new markets: Broaden your target audience.
Who is your typical customer? What is the median age, gender, location, or interest of your customer base?
What would make your products or services appeal to other demographic groups? How could you best reach those customers?
11. Diversify by acquiring a similar business: Having multiple streams of income can smooth out seasonal sales peaks and slumps.
Choose another business based on performance, potential— and whether it is a good fit for your own experience.
12. Increase your internet presence: An effective Web site levels the playing field between corporate giants and shoestring business startups. Getting your site high on the search engine lists can make or break your company. Since 80% of Internet traffic comes from the search engines, maximizing your exposure for search engine optimization (SEO) is paramount to business success.
Use social media to drive customers to your Web site and increase your "click-through rate."
13. Broaden your sales base globally: Does your product meet the needs of international customers? Consider exporting, licensing to a foreign company, or combining a joint venture with an international company.
While going global can be a slow process— and a harrowing marketing quagmire— the financial rewards are often well worth the effort.
Creating a New Business Facility with a RHINO Metal Building
When expanding your business includes a new building project, consider using a pre-engineered metal building (PEMB) for your new headquarters, office, manufacturing plant, or warehouse.
No other building system beats the long-range value of a PEMB. Prefabricated steel buildings are the most affordable structures to purchase, build, and operate.
A RHINO Steel Building System brings fantastic advantages over ordinary building systems, including:
RHINO's PEMBs include value-added features that eliminate leaking, corrosion, condensation, and other weather-related problems common in inferior metal buildings.
Steel components start out straight and true— and remain that way for the lifetime of the structure. RHINO steel buildings create a draft-resistant, tight envelope for the lifetime of the structure.
RHINO metal buildings provide extra protection from blizzards, hurricanes, lightning, fire, and earthquakes.
The fire-resistant qualities of commercial grade steel earn significantly lower rates with most insurance companies, saving 25% to 35% on average.
Wood structures require periodic expensive treatments with noxious chemicals to ward off costly termite and wood ant attacks. RHINO steel framing is impervious to termite or wood ant attacks.
Properly insulated steel buildings slash energy costs. RHINO's Pro-Value insulation package slashes energy costs in half. Over a lifetime of operation, well-insulated metal buildings save thousands of dollars on energy expenditures.
Steel buildings last decades longer than other types of structures— and retain their sharp looks and resale better, too.
Structures that need constant repairs and repainting create a drain on budgets. RHINO metal buildings are practically maintenance free.
RHINO metal buildings save money on remodeling and expanding. Steel buildings require few—if any— load-bearing interior columns. Changing the interior floor plan is a snap. Expanding the size of a steel structure is faster and easier with a metal building, too.
Numerous factories located nationwide keep freight costs at a minimum.
RHINO metal building specialists are just a phone call away. Let them answer all your questions, provide expert guidance, and supply free quotes on the dream building you need for expanding your business this year.
Call 940.383.9566 now for more information about RHINO PEMBs and for a fast, friendly quote.
Don't miss part one of this series on business expansion strategies: Seven Ways to Grow Your Business in 2017.