Cut the Purchase Price of a Structure with Steel
Buying a steel building saves money during three phases:
At the initial purchase
During construction
During use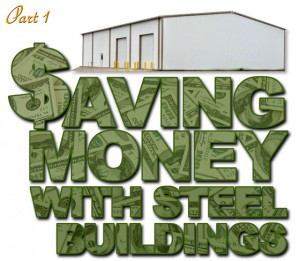 This blog covers how a reputable steel building company with a premium product cuts up-front costs. The next blog shows the reasons a steel building saves money during construction. The final blog explains how metal buildings save on operating costs.
How Steel Buildings Provide the Best Price
Pre-engineered metal buildings dominate the low-rise market for agricultural, aviation, commercial, and industrial structures.
While buyers in these categories appreciate the many benefits of prefabricated steel buildings, the bottom line rules. If steel buildings were not economical, they would not enjoy such popularity.
Here are a few of the methods used by first-class steel building producers to slash initial costs:
HIGH VOLUME: Respectable metal building companies sell many buildings. What is so unusual about this business is the ability to design each order individually like a custom job— yet still create the building components quickly, consistently, and efficiently.
COMPUTERIZED: Advances in design and engineering software allow steel building companies to produce detailed production drawings faster than ever before. Every order meets local building codes and the buyer's special requirements. Computerization reduces overhead costs, making steel building production extremely economical.
FACTORY NETWORK: Steel building companies with numerous factories nationwide drastically drop freight costs. The order and production drawings are sent to the plant nearest the job site.
AFFORDABLE CUSTOMIZATION: The versatility of steel buildings makes them ideal. Steel's inherent strength allows open, obstruction-free designs which adapt easily to almost any use.
ACCURATE PRODUCTION: Steel production professionals manufacture each building component to exacting specifications. In quality-controlled factories, experienced production workers tool every framing piece with precision.
INCLUSIVE PACKAGE: Reputable steel building companies include all the high-quality hardware for connecting the framing. Building options like doors, vents, gutters, mezzanine floor systems, and skylights are ordered and shipped with the steel.
STABLE PRICING: Historically, steel pricing remains the most stable of all building materials. It does not experience the wild price fluctuations prevalent with concrete, wood, and other building materials.
LESS MATERIAL: Steel boasts the strongest strength-to-weight ratio of any building material. While lumber places studs at 16-inch intervals, rigid red-iron steel columns are generally spaced 25-feet apart. Far fewer pieces of steel create a much stronger frame.
EXPERT ADVICE: Established, customer-conscious metal building companies employ trained consultants. These helpful and experienced professionals often offer simple design changes that can cut costs on building projects.
Save Money with RHINO Steel Buildings
When looking for a reliable, established steel building company, call RHINO Steel Building Systems. Discover the RHINO Difference appreciated by our loyal customers.  RHINO:
Is celebrating its 21st year in the metal building business.
Ships from multiple factories all across North America.
Employs an experienced staff with an average of 20+ years in the steel building business.
Has a reputation for premium quality buildings at an economical price.
Enjoys a 30% sales record of repeat clients and customer referrals over the past year.
Earns an A+ rating from the Better Business Bureau.
Speak to a RHINO steel building consultant today about your upcoming project. Call RHINO now at 940.383.9566. Receive a free brochure, friendly advice, and a no-obligation estimate.