Part 1: 7 Ways to Grow Your Business this Year
You've weighed the pros and cons of expanding your business. After careful consideration of the risks and rewards, you have decided to forge ahead. But what are the best ways for expanding your business?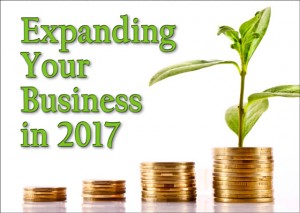 Every market and each business presents unique opportunities for growth. As the business owner, only you can determine the best course for your enterprise. Here are a few suggestions that may help spark ideas for expansion.
Seven Ways to Increase Your Business This Year
1. Grow existing sales: Do not overlook the obvious choice of increasing your current sales. Examine ways to expand your market penetration of existing products or services.
Remember: your prospects buy only what they think they need. How can you convince them they need more of your product or service? What can you do to "sweeten" the deal for a higher conversion rate and better customer service?
2. Introduce a new product or service line: Do you have a successful house cleaning service? Expand your service in to a new demographic. Start a commercial janitorial service.
Have you created the hottest new doll on the market? Add a line that would appeal to your existing customer base and complement your current sales. Begin a line of accessories for that doll.
3. Increase sales to your customer base: Repeat customers are the bread and butter of any successful business.
Know your customers. Find out what they like— and what they don't like— about your product, service, and company and try to meet their needs.
Happy customers not only buy repeatedly, they also refer others to your company.
4. Relocate your business: Have you maxed out the space at your current business address? Is there another area that would offer greater sales opportunities? If so, consider moving to a better or larger location.
Look for a locale offering a similar customer base, preferably in an area without direct competitors, or one where competitors are not adequately serving your potential customers.
Do comprehensive marketing research for your proposed location.
Retail enterprises where the customer comes to you require prime visibility and client convenience. Fulfillment operations and service businesses that deliver to the customer have greater leeway for property selection.
If you plan to build a new facility, check for appropriate properties. Find a location with room for future expansion. Locate the structure on the property with later building expansion in mind.
5. Open a new location: Would it be possible to replicate your existing success in another geographic area? If your business system is tried-and-true— and easy to replicate— opening at a new site may increase profits quickly and easily. Consider opening a second location across town, across the state, or even in a different region.
As with relocating, opening a new location requires in-depth market research to determine the area most likely to be successful.
Depending on how well the new satellite office, store, or service center succeeds, you may find yourself well on your way to starting your own chain!
6. Franchise your business: If your product or service has universal appeal, selling franchises to other potential business owners may provide rapid growth.
Franchising allows expansion into new markets without tying up your time and your staff with managing new operations.
However, upfront costs for creating a franchise are often prohibitory for smaller businesses. Legal counsel for producing contracts, graphic and copywriting assistance to create operating manuals, and marketing expertise for developing promotional materials are costly.
7. License your product: Licensing a patented or trademarked product or design means selling the manufacturing or production rights to another company. If your current business cannot keep up with the demand for your product, allow another company to produce your product.
In a licensing operation, the licensee keeps most of the profits, while you receive royalties on the sales. (For example, NFL merchandise is manufactured and sold by a host of licensed companies, which pay royalties to the team franchises.)
Many designers of intellectual products sell the licensing rights for the games, software, or designs they create.
If your product or service is branded, licensing is a cost-effective way to generate growth.
Expanding Your Business with Steel Structures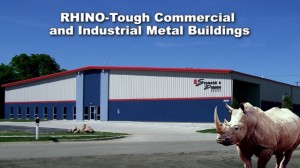 If expanding your business creates the need for a new building project, pre-engineered metal buildings (PEMB) are the perfect construction solution.
Pre-engineered steel buildings not only offer the most bang-for-the-buck for design and materials, but are also the most economical structures to erect, operate, and maintain. Look at the money-saving features of a RHINO Steel Building System:
Each RHINO steel building is designed individually like a custom job. Building components assemble quickly, consistently, and efficiently.
RHINO employs experienced metal building consultants. These helpful and knowledgeable professionals often offer simple design changes that streamline building projects and cut costs.
Design and engineering software allow steel building companies like RHINO to produce detailed production drawings faster than ever before. Computerization reduces overhead costs, making steel building production extremely economical.
Steel's inherent strength allows open, obstruction-free designs, which adapt easily to almost any use.
Production professionals manufacture each building to exacting precision in quality-controlled factories. RHINO metal buildings go together only one way— the right way.
Building options like doors, vents, gutters, and skylights are ordered and shipped to the job site with the steel framing kit.
Steel boasts the strongest strength-to-weight ratio of any building material.
Because steel's unmatched strength actually makes the total framing package lighter than other building materials, less concrete is required for buildings erected on a slab, reducing foundation costs.
Steel's strength creates a strong, durable structure with surprisingly few pieces. Less pieces equals faster construction. RHINO metal buildings cut construction time by about 33%. The quicker a building goes up, the less money spent on labor. The faster a building is completed, the less money is spent on construction insurance.
All RHINO steel framing components arrive cut to the correct length, welded, drilled, and sealed with corrosive-resistant paint. All the building pieces are clearly marked for quick identification and fast assembly. A pre-engineered steel building really is like a life-sized erector set for grownups.
Removing construction debris costs money. Pre-engineered metal buildings produce very little scrap. Leftover steel scrap is sold for recycling.
Call RHINO today at 940.383.9566 to learn more. Our metal building specialists will answer all your questions, offer expert advice, and furnish free quotes for your new office, store, fulfillment center, or warehouse expansion.
Check out part two of this series on expanding your business, with Six More Ways to Grow Your Business This Year.