Higgins Armory Museum: A Tribute to the Iron and Steel Industry
I am sometimes accused of having a steel building obsession. Certainly, most of my adulthood has been spent in the pre-engineered steel building industry.
However, I just discovered I am not the first man obsessed with steel. Compared to John Woodman Higgins, mine is an amateur obsession.
A Passion for Steel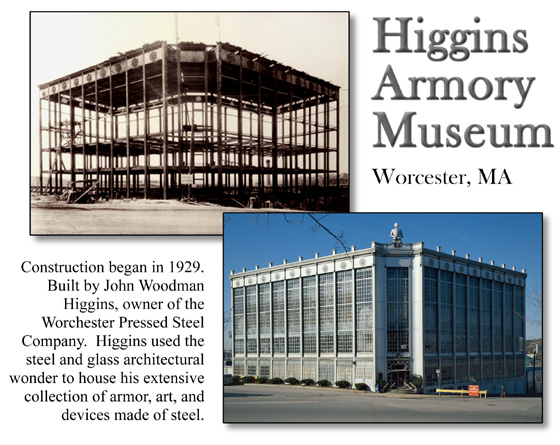 John Woodman Higgins enthusiasm for iron and steel came naturally.
Even as a child, young Higgins showed an aptitude for mathematics and mechanics, as well as an insatiable curiosity about metalworking.
John's father, Milton Higgins, owner of the Worcester Plunger Elevator Company, was an ideal mentor for his industrious and gifted son.
Milton Higgins sold the company to the Otis Elevator company in 1902. John stayed on with Otis Elevator, experimenting with different steel production methods. John preferred rolled steel to cast steel, for its increased strength and decreased cost.
In 1905, John and his father Milton purchased the Worcester Ferrule and Manufacturing Company, renaming it Worcester Pressed Steel.
Fascinated by all things steel, John Higgins traveled extensively in the 1920s, collecting steel implements, artwork, and armor from all over Europe. In 1928, when his home could no longer contain his rapidly expanding hobby, Higgins began plans for a structure to house his iron and steel collection.
Higgins' passion for steel produced a 42,000 sq. ft. edifice framed in steel. Designed by Boston's Joseph D. Leland, the six-story Art Deco structure was the first steel-and-glass multi-story structure built in the U.S.
L-shaped in design, the exterior displays decorative steel pilasters with huge rivets. Leland designed the interior space as an homage to the Great Hall in Hohenwerfen Castle in Austria, with Gothic stone arches and massive medieval-styled iron chandeliers. A half suit of armor tops the chamfer-cornered entryway. The building cost $300,000.
On January 21, 1931, Higgins opened his pride and joy, located next door to his steel company in Worcester, MA. Originally dubbed the "Museum of Steel and Armor," the edifice later became known as the "Higgins Armory and Steel Museum."
Over 600 people attended the opening ceremony. The Boston Symphony Orchestra supplied the fanfare, while Higgins' sons strode around in full suits of armor.
Over the years, Higgins collection expanded to include over 2,000 iron and steel objects.
The museum contained one wing devoted to ancient arms and medieval weaponry. Some pieces dated back as far as Ancient Egypt.
Another wing showcased modern uses for steel, from ice machines to shoe polishers. Steel automobile parts created one display. Suspended from the ceiling, an all-steel airplane seemed to float above. "Crowning examples of mass production" delighted visitors, educating them on the wonders of modern metalworking.
Visitors walking from the museum to the steel factory next door watched the production of army helmets and flatware right before their eyes.
In 1980, the Higgins Armory Museum joined the prestigious National Register of Historic Places.
Fading Glory of Higgins Museum
John Woodman Higgins died in 1961. Without his enthusiastic support, the museum faded from its former glory. In 1975, Higgins' steel company folded. In 1978, the museum was sold.
Despite the best efforts of the community to keep it open, the Higgins Armory and Steel Museum closed its doors for the final time in December 2013.
Fortunately, the Worcester Art Museum received the steel and armor inventory from the Higgins Museum.
Steel Buildings Come of Age
I feel a real affinity for John Woodman Higgins' love of steel. I believe he and I would have been very simpatico.
I do regret that John Higgins did not live to see the pre-engineered steel revolution in full swing. How he would have love it!
Prefabricated steel buildings were still in their infancy in the 1960s.
Today steel dominates construction. Over 50% of all low-rise commercial structures— and 90% of all low-rise industrial structures— are steel buildings.
A pre-engineered steel building is stronger, lighter, faster, and more affordable than other building methods. Steel buildings span farther, stand taller, and last longer than wood structures.
A steel building provides greater design flexibility and easier remodeling capabilities.
As the most recycled substance in the world, steel meets green building standards. The deep-set walls of a steel building provided the perfect cavity for extra-thick insulation. A well-insulated steel building saves as much as 50% on utilities.
As one of the premiere prefabricated metal building companies in North America, RHINO Steel Building Systems provides quality-made structures primarily for the low-rise commercial and industrial building market.
Call RHINO now at 940.383.9566.
RHINO's professional metal building specialists are fully equipped to answer all your questions, provide expert construction advice, and serve you with accurate quotes.