Today, builders frame all superstructures like high-rise apartments, bridges, and multi-storied office buildings with steel.  Those huge, gigantic edifices would not be possible without the superior strength of steel.  Prefab steel commercial buildings lead the low-rise, one and two-story market, too.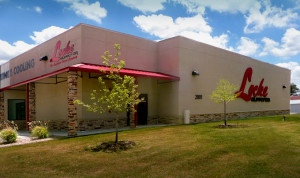 According to the U.S. Department of Commerce, about 170,000 new commercial buildings are constructed each year.  Steel framing accounts for 70%-80% of those buildings.
Why Builders Choose Pre-engineered Steel Commercial Buildings
Smart commercial builders choose pre-engineered commercial buildings to save time and money during construction:
Steel is stronger, so it requires far fewer pieces to erect a much sturdier frame than wood.
Framing pieces prefabricated at the factory require no cutting or welding at the job site.
Every steel framing piece is consistent in quality and strength, without the grade variations of lumber.
There is no need to cull out "bad" pieces, reducing waste.
Each steel framing member is marked for easy identification.
All the framing connects quickly and easily with high-strength bolts and screws.
Steel will not warp, shift, split, or crack over time like lumber does, saving on costly callbacks and repairs.
Why Owners Love Pre-engineered Steel Commercial Buildings
Shrewd commercial businesspeople and property investors appreciate the long-term savings provided by metal buildings:
Inorganic steel does not support mold or fungi growth.
Steel does not attract termites or vermin like wood.
Steel framing will not ignite, nor add fuel to a fire like wood framing.
Since steel is a commercial-grade, fire-resistant building material, it often earns lower insurance rates than wood structures.
The deeper wall cavities of steel buildings allow the use of thicker, more energy-efficient insulation, saving as much as 50% on utilities.
Thicker insulation greatly reduces outside noise from penetrating inside the building.
Pre-engineered metal buildings consistently out-perform wood buildings in hurricanes, blizzards, tornadoes, earthquakes, and other natural disasters.
Steel is inorganic, so cannot cause outgassing or allergy problems for tenants.
Future expansion or remodeling is much easier in a pre-engineered steel building.
Owners enjoy far fewer maintenance costs with prefab steel framing.
Beauty and value of the commercial metal building lasts for decades.
The RHINO Difference in Steel Commercial Buildings
Give our knowledgeable RHINO building specialists the opportunity to bid on your next commercial steel building.  We would love to explain the benefits and value-added features of the RHINO metal building systems.  Call 940.383.9566 for assistance.