Why Pre-engineered Steel Buildings Dominate New Auto Shop Construction
Why do so many mechanic shop owners choose prefabricated metal buildings for auto shops?
Well, metal buildings offer many advantages over other low-rise construction methods. A high-quality metal building promises great value— and it delivers on that promise. In fact, steel now frames 65% of all new low-rise commercial construction.
The Auto Service Industry Today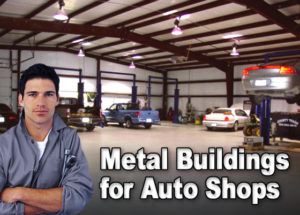 With over 260 million passenger vehicles now on the road in the U.S., the auto repair business is booming. Consider these facts:
Today's sophisticated computer-driven vehicles make it difficult for the "shade-tree mechanics" of yesteryear to handle their own repairs. Most people have neither the time, expertise, or equipment needed to do their own auto repairs. They trust their local auto repair business to keep their cars running in tip-top shape.
Moreover, people are keeping their cars longer these days. The average of age of the cars on the road has been growing steadily over the last three decades.
Small family-owned businesses still make up over 66% of the 175,000 auto mechanic shops in the U.S. today.
No wonder the industry is growing by leaps and bounds!
Why Auto Shops Choose Steel Buildings
There are seven main reasons to use pre-engineered metal buildings for auto shops.
SPACE:

Auto service businesses need lots of elbowroom to work efficiently. No other building system offers the roomy, unobstructed interior provided by clear span metal buildings.

HEIGHT:

Auto repair businesses also require lots of headroom. Hydraulic lifts for cars, trucks, and SUVs need to be high enough to work beneath them, which means auto shops need tall ceilings. The strength of steel allows eaves as high as 42'. (Custom buildings produce even taller structures.)

LARGE OPENINGS:

Auto shops need multiple bays with sturdy overhead doors. Metal buildings have the strength to create large openings. They also offer a variety of overhead door sizes, styles, and lifting mechanisms. If you want, order these doors with additional wind resistance or insulation.

FAST FRAMING:

Prefabricated metal buildings for auto shops promise simple construction. All the framing arrives clearly marked and ready to assemble. Typically, construction time is 33% less than tedious wood construction. Owners may even choose to erect the framing themselves to cut construction costs.

NON-COMBUSTIBLE:

Gasoline and other flammable solvents make auto service garages prone to fire. However, steel is non-combustible. It does not ignite— nor does it add fuel to a fire like a wood building does.

LOW COST:

Surprisingly affordable, steel building kits offer a low initial cost-per-square-foot. They also drastically cut operating costs. A well-insulated metal building reduces energy costs, while keeping workers more comfortable. Steel buildings also require very little maintenance. In addition, the commercial-grade, non-combustible framing even earns big discounts on insurance premiums with most carriers.

DAMAGE-RESISTANT:

RHINO steel buildings also offer built-in strength. Consequently, they are damage-resistant against earthquakes, strong winds, lightning, mold, termites, heavy rains and snows.
RHINO Metal Buildings for Auto Shops
All commercial building owners, including auto service owners, want a well-built, long-lasting structure that holds the value of their investment. That means they want a RHINO steel building.
Make your upcoming auto industry construction project a RHINO steel building. RHINO auto garages provide years of trouble-free service. RHINO buildings include many value-added features not available with other metal buildings.
Advances in steel building engineering and manufacturing allow us to custom design a prefab metal building quickly and economically. And with the RHINO steel building system, later expansion of your auto shop is quick, easy, and inexpensive.
Speak to a RHINO steel building specialist today about your auto service building project. Call RHINO now at 1.940.383.9566 for a quick quote and more details.