Enjoy the Time Saving Benefits of RHINO Steel Buildings
Did you know you could save time by building steel structures from RHINO steel buildings?
And, in construction, time is money.
Building Steel Structures that Save Time
Quicker construction is convenient. Certainly, it saves consumers money on their own personal building projects.
However, time saving is essential for commercial builders. Every additional hour of construction raises their total project costs.
RHINO steel buildings cut construction time by an average of 33%.
However, time saving is only half the picture. Building a metal structure with RHINO means you even save after construction.
Look at these ways RHINO buildings save you time:
Metal Building Experts
All RHINO's specialists bring years of hands-on metal building construction experience to the table. They can offer you valuable advice on streamlining and improving your construction project. Their expertise helps bring your project in on time— and on budget.
Lightning Fast Design/Engineering System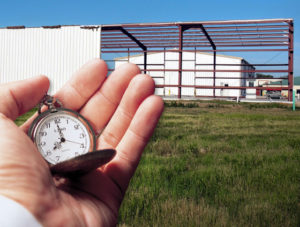 State-of-the-art steel engineering software dramatically shrinks design time for RHINO's prefab metal structures.
In addition, our three-dimensional structural analysis programs ensure the integrity of your steel building design.
And as an added time saver, today's computer-aided-design software quickly generates detailed fabrication drawings. These drawings dramatically increase the speed and accuracy of manufacturing your building.
Time Saving Engineer-Stamped Plans
Armed with plans stamped by an engineer licensed for your state, your permitting process becomes swift and painless.
Why?
Because, building officials know and trust reliable pre-engineered metal buildings. Consequently, stamped plans expedite your approval process, saving you more time— and frustration.
Quicker Delivery
All RHINO steel building orders ship directly from the closest factory to your job site. That will save time— and slash your freight costs, too.
Typically, basic RHINO metal buildings ship in only four to seven weeks from the order date.
Prefabricated Framing Cuts Construction Time
Wood, weld-up, and light-gauge steel buildings require labor-intensive fieldwork. Each piece is measured, cut, and assembled on your job site.
Conversely, RHINO steel buildings arrive ready to erect. Every factory-produced piece is already measured, cut, welded, punched, painted, and clearly marked. You simply assemble the pieces like an adult-sized version of a kid's erector set.
Moreover, quality-controlled, factory-made framing reduces the chance of human error in construction.
Less Framing Pieces for Faster Erection
Wood and light-gauge steel framing place studs every 16 to 20 inches on center. That is a lot of framing work.
However, the super strength of RHINO's commercial-grade steel buildings allows columns and rafters to space 20 to 25 feet apart. Obviously, less framing translates into far less labor.
In fact, the larger your structure, the more you cut labor costs by building RHINO steel structures.
RHINO's Pre-Welded Clips
RHINO metal buildings boast ¼-inch thick steel "clips" pre-welded strategically on the columns and rafters. These clips allow quicker attachment of girts and purlins, speeding up your construction.
In fact, our welded clips actually create stronger connections than the screw-together connections used by cut-rate building suppliers.
Clear Instructions
RHINO's concise assembly directions make framing erection simple.
RHINO also includes an Installation Manual and a Construction DVD with every order. By following the systematic instructions, you cannot go wrong.
In addition, RHINO experts are available to answer any questions that arise.
Save Time and Money with Less Waste
Construction site cleanup is time-consuming— and costly. The builder must haul discarded buildings supplies away— often at great expense.
Fortunately, building steel structures with RHINO building kits creates little waste. In fact, builders actually make money by selling any bits of leftover steel to the local scrap metal dealer.
Little Maintenance for Greater Time Savings
Even after construction, RHINO metal buildings continue to save time.
Strong, durable metal structures require very little upkeep. There is no need for all the roofing repairs and constant repainting common with wooden structures.
Conclusion
No other building method saves more time than RHINO steel buildings.
Trust Our RHINO-Tough Metal Structures
Find out more about RHINO steel buildings. Call 940.383.9566 now. Discuss your next construction project with a knowledgeable RHINO building expert.
Our service is friendly and our estimates are free.
(Updated 10-23-2019. Originally published 1-2-2018.)