Estimating the Steel Building Construction Timetable
We often tout the construction speed of a pre-engineered steel building, but just how long does it take to erect a metal building?
That's one of the first questions we get from do-it-yourselfers who are interested in recreational and residential metal buildings. In fact, how to estimate steel building installation is one of the questions we hear from first-time builders, too.
The Construction Variables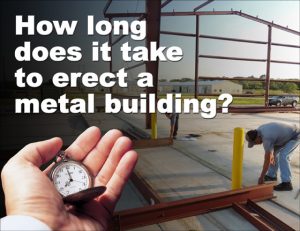 • SIZE: Naturally, larger structures take more time to build than smaller ones.
• COMPLEXITY: Simpler structures go up faster. Highly customized designs will require more time to erect. A basic rectangular-shaped building with a low gable roof and steel panel exterior erects the fastest.
• SPAN: Clear spans or exceptionally wide structures—over 80'—typically require additional construction time and equipment to handle the heavier rafter beams.
• CREW: The larger the crew, the less time it takes to erect a metal building.
• EXPERIENCE: Like anything else, there is a learning curve in metal building construction. The first project will take a little longer, as the crew learns the process. Subsequent building projects pick up speed, as the crew gains experience with pre-engineered metal buildings (PEMBs).
• EQUIPMENT: The availability of rental equipment sometimes tampers with building schedules.
• WEATHER: As every builder knows, inclement or extreme weather often delays construction, throwing off a carefully planned building schedule.
The PEMB Advantage
A PEMB system generally cuts construction time by about 33%, when compared with other building methods. Prefabrication eliminates most of the measuring, cutting, and welding at the job site. (See "Faster Construction with Metal Buildings" for details.)
General Guidelines
Variations aside, these two average framing times for our most popular basic PEMBs will give you a general idea about erection times:
40' x 60' x 12' with a three-person crew erects in about five days
60' x 100' x 16' with a four-person crew takes about seven days to assemble
For More Information on How to Erect a Metal Building:
Call RHINO at 940.383.9566 today and speak to a RHINO steel building specialist. These qualified professionals can answer all your questions about our structures and the metal building erection process and an estimated timetable.