Why is Steel a Good Building Material?
With all the building materials available, why is steel used in construction so often? The benefits of steel framing make it the best choice for low-rise construction. In fact, builders most often choose pre-engineered metal building systems for their low-rise commercial and industrial clients.
Here are just a few of the reasons that steel is the go-to option for so many builders.
1.

Easy Ordering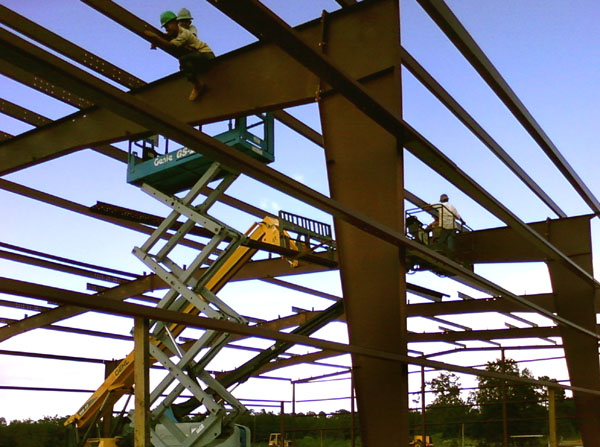 Once a builder has the architectural plans from the customer, ordering a pre-engineered metal building is simple.
RHINO Steel Building Systems' efficient and knowledgeable steel building specialists provide fast, accurate quotes. The builder can be confident using RHINO's figures to make his or her own bid to the client.
2.

Keeps Builders Competitive

Keeping costs to a minimum is a huge part of staying competitive in the market. Pre-engineered metal buildings utilize state-of-the-art software that designs the building to use steel most efficiently. The software also ensures that the structure is designed to meet or exceed all local building codes, and creates all fabrication drawings, streamlining the manufacturing process.
3.

Quick Delivery

After an order is placed, the shop drawings are sent to the manufacturing plant that is closest to the job site. This keeps shipping charges to a minimum, further reducing costs. Simple "basic box" designs can deliver in as little as 4-5 weeks! Larger, more complex custom designs may require 6-7 weeks for delivery.

This is one of the many benefits of steel framing — the quicker that builders can get their foundation poured and framing package delivered, the sooner they can have a crew start construction.
4.

Faster to Build

One of the main reasons why steel is used in construction is how quickly projects can be completed. Because steel is so strong, fewer pieces are needed to create a super-strong structure. Since the factory cuts, welds, shapes, drills, and marks each piece before shipment, the framing arrives at the job site ready to sort and erect.

Typically, framing erection for a steel building system cuts construction time by one-third, or even more. The faster the job is finished, the happier the customer is — and the quicker the builder can move on to the next project.
5.

Best for the Budget

It's important to always pay attention to the bottom line on any building project. Steel is used in construction because it offers the best bang-for-your-buck. The prefabricated metal building kit arrives ready to erect. Doors, trim, insulation, mezzanine floors, and other options ordered from RHINO arrive with the steel framing, saving time and money.

Shorter construction time also saves money on builder's insurance. Furthermore, pre-engineering means reduced waste of building materials. Less waste means fewer clean-up costs. Plus, what little steel is leftover can be sold to a metal scrap yard.

These benefits of steel framing are what make it a builder favorite. A metal building system keeps a project on time and on budget.
6.

Endless Benefits

There are so many benefits to steel buildings. Here's a few of the advantages that steel buildings offer to customers:
Stronger protection from

high winds

, heavy snows and rains, earthquakes, mold, fire, lightning, and termites

Low maintenance

Clear span designs

Easy to expand later

Floor plan flexibility

Choice of exteriors, from colorful, 26-gauge steel panels to brick, stone, block, glass, or tilt-up concrete

Durability

Green building benefits — steel is the most recycled substance on the planet

Reduced property insurance

Faster building completion

Additional energy savings with Pro-Value insulation package or cool-coated steel panels
7.

A Customer Favorite

So why is steel a good building material? It all really comes down to one thing — customer satisfaction.

Satisfied customers mean more repeat business and stronger referrals. At RHINO, returning clients and referrals made by our highly-satisfied customers generated over 30% of our orders in the last 12 months.

Clearly, steel is an incredible option for construction.
Contact RHINO Today
Call RHINO now at 940.383.9566 to discuss our range of metal building products and your next building project.