Comparing Wooden Pole Barn and Prefab Metal Barn Kits
Pricing for prefabricated metal barns and pole barns rests on several factors.  First, let's focus on the initial costs of pre-manufactured barn kits.
Pole Barns versus Metal Barns Pricing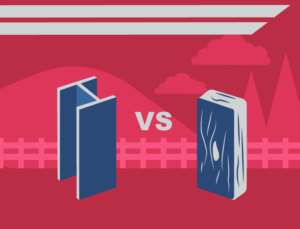 Both wood prices and steel prices fluctuate with market and production demands.  Consequently, barn pricing for both systems wavers, too.
Usually, lumber prices are more volatile than steel prices.  However, both materials experience price changes over time.  To get an exact cost comparison at any given time, ask for bids.
That being said, pole barn kits generally cost less than steel kits on smaller structures.  However, beware of comparing only the initial costs.  The building package itself only constitutes a part of the true cost.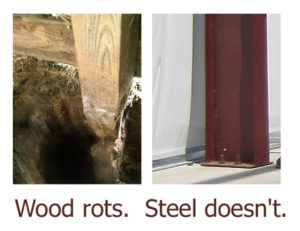 Remember, you normally get what you pay for on any purchase.  A cheap building is not usually a smart buy.
Pre-Manufactured Barn Engineering Comparison
Unlike pole barns, there is no one-barn-fits-all design for steel framing.  With metal barns, customers enjoy more freedom to "customize" their structure.
State-of-the-art structural and engineering software designs each metal barn to the customer's exact needs.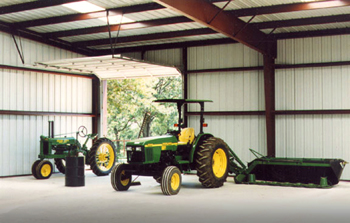 All RHINO metal barn kits and steel buildings include three sets of plans stamped by an engineer licensed for that location.
RHINO orders also include a certified letter promising to meet or exceed all current local building codes for the lifetime of the structure.  Good luck finding a pole barn kit with that guarantee!
In fact, some building departments actually ban pole barns.  Why?  Because pole barns include no engineering documentation at all. 
Moreover, many appraisers do not consider timber barns to be permanent structures.  Consequently, pole barns may literally lower the value of your property!
Comparing Foundations for Pole Barns and Steel Barns
Pole barns consist of posts driven directly into the ground.  Although such barns can add a concrete floor, most often they use dirt or gravel floors.
Metal barns require either a concrete pier beneath each column or a slab foundation.  Admittedly, these foundations do add an expense to the overall project.    However, steel on concrete produces a far more lasting, stable, and permanent structure than wooden poles driven into dirt.
Long-Term Differences
In many ways, comparing pole barns and steel barns is like comparing apples and oranges.  Both systems create barns.  Nevertheless, the long-term differences are substantial.
RHINO pre-manufactured barns and steel buildings supply these great value-added features:
Our structures use the strongest framing material available: steel.
RHINO pre-manufactured barns offer extra protection from leaking and condensation.
Our steel buildings can clear span up to a 300-foot width. Wood barns span only to 90 to 100 feet.
Steel buildings require no harsh chemicals to thwart ground rot and termites. Wood barns cannot make that claim!
RHINO buildings use 26-gauge Galvalume® steel cladding. Pole barn kits typically use thinner 29-gauge metal sheathing.
Steel pole barn kits never rot, creep, sag, or mold; wood barns do.
In addition, maintenance varies dramatically between the two systems.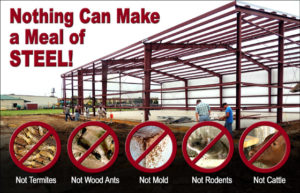 Metal barns need little upkeep.
Pole barns, however,  require constant— and expensive— care.
As the ground shifts, the framing moves.  Consequently, the wood framing needs periodic straightening, too.
Even more troubling, the part of the posts in the ground rots over time.  Replacing the poles is difficult and expensive.
Conclusion
The strength, durability, and damage-resistant qualities of steel barns make them a better buy than pole barns.
Still not convinced? Check out these 15 more reasons to choose prefab steel barns.
RHINO: A Quality Building Product at a Competitive Price
Call RHINO now for information on our pre-manufactured barns for sale. We supply free quotes for dairy barns, stables, horse barns, riding arenas, and all your other metal building projects.
Our number is 940.383.9566.
 (Updated 6-12-2019.  Originally published 12-27-2013.)