Does a Pole Barn Increase the Resale Value of Property?
Adding pole barns to your property sounds like a great idea.  That should pump up the land's worth, right?
Well, not necessarily.
Weighing Property Improvements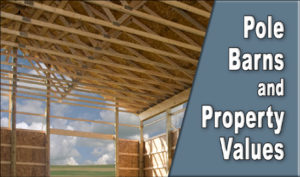 Surprisingly, not all additions increase the later resale value of your property.
For example, real estate professionals often find homes with swimming pools are actually harder to sell.  Many people do not want the expense and hassle of a pool.  The same can be said of large built-in aquariums.
Other improvements may add some value to the sales price— but not nearly as much as you paid.  For example, adding an expensive sunroom or a built-in home theater may cost you far more than you'll ever recoup at resale.
On the other hand, a large, attractive detached garage generally increases the curb appeal of property.  In fact, according to Realtor Magazine, the absence of enough garage space is often a deal breaker.
The Problem with Building a Pole Barn Addition
Pole barns are built from wood timbers.  A pole barn has no foundation; the timbers are buried directly into the ground.  Wood trusses form the roof.
While wooden pole barns look nice when first constructed, their good looks fade quickly.  Moreover, wood barns require a lot of maintenance:
Timbers rot easily in the ground, and must be replaced.
The shifting wooden frame needs straightening every five or ten years— an expensive process.
To stave off rot, mold, and termites, the framing needs frequent sealing.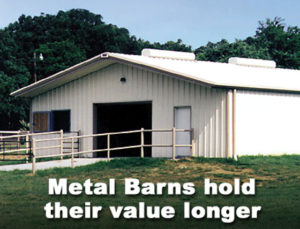 Nevertheless, maintenance is important.  An unkept pole barn creates an eyesore on your property, sending potential buyers away.
However, the two biggest drawbacks of pole barns may be even more detrimental to a sale.
Firstly, pole barns may face zoning violations that put the kibosh on your sale.  Since pole barns have no foundation, they are often considered "temporary" structures.  In areas with stringent building codes, pole barns do not make the grade.
Secondly, lenders may actually refuse mortgages for properties with temporary buildings like pole barns.
Metal Barn Advantages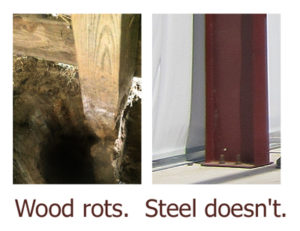 Pre-engineered metal pole barns, multi-vehicle garages, and outbuildings furnish the benefits wood pole barns lack.  RHINO steel barns are:
Fire and lightning resistant
Less expensive to insure
Durable, outlasting pole barns by decades
Permanent structures, built on concrete foundations, pilings, or stem walls
Extremely low maintenance
Strong enough to withstand damage from weather extremes
Impervious to rot, mold, and termites
Value-added improvements at resale
Extremely slow to age
Straight and plumb— and stay that way
Guaranteed to meet or exceed all current local building codes
Considered a land asset by lenders
Get the facts about RHINO metal barns and storage buildings.  Call us today to learn about adding property value with pole barns or steel frame buildings. Speak to one of RHINO's knowledgeable and experienced metal building specialists at 940.383.9566.